Anthony Joshua wants world heavyweight title within four years
Last updated on .From the section Boxing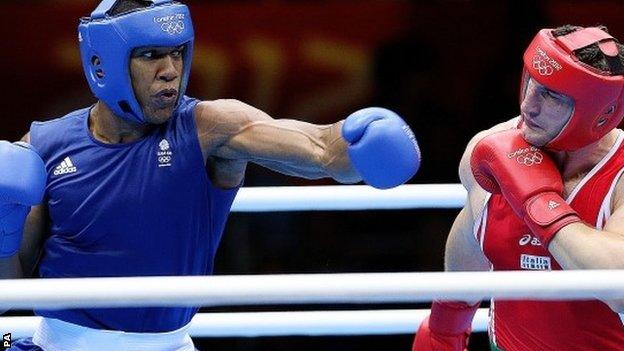 Anthony Joshua has said he hopes to be fighting for a heavyweight world title in four years or sooner, ahead of his professional debut on Saturday.
"I've got the ability and the dedication to get there," Joshua, 23, told BBC Sport. "It's just how much pain I can take when I get in the ring.
"Hopefully we'll be competing for a title in four years' time."
Unusually, Joshua's first fight in the paid ranks will be over six rounds against an opponent unbeaten in eight fights.
However, Britain's last heavyweight world champion David Haye says his fellow Londoner should have no problems making the transition.
"He's Olympic champion, he's had the whole world looking at him and handled himself fantastically," said Haye.
"The pressure of pro boxing won't faze him at all, he's been fighting the best fighters in the world the last few years.
"He's got a big dig on him, he'll be blasting people out and the fact he's turned pro nice and early will allow him to build his style."
Joshua, who is being advised by former heavyweight world champion Lennox Lewis, added that he had been studying tapes of heavyweight greats.
"I've been watching Evander Holyfield, a bit of Ken Norton, Larry Holmes and Lennox Lewis," said Joshua. "They knew what they were doing in the ring.
"I applied some of Holyfield's tricks in sparring and it worked a treat.
"I was watching Norton versus Holmes and it's a great battle of two elite athletes going toe to toe, no man giving up.
"I'm not saying I want to be in a fight like that but I'd like to dominate opponents who think they can be in my category."