Serge Ambomo: Sheffield's indomitable lion seeks sanctuary
Last updated on .From the section Boxing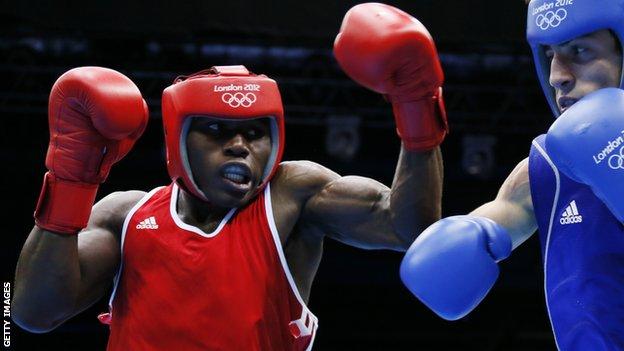 You do not see many lions in Sheffield, indomitable or otherwise, but Serge Ambomo is determined to change that.
Ambomo was one of Cameroon's five-man boxing team at London 2012.
"As soon as I got on the plane to come to England, I knew I was saved," he says, suggesting he was not planning to return even then.
"I feel like I've been born again."
The light-welterweight felt "blessed" to be part of the greatest show on earth and was looking forward to the competition. But then, he says, the team's officials took his passport away and told him he would not get it back unless he won a medal.
Boxing has brought two of the five Olympic medals Cameroon has ever won, with the "Indomitable Lions" football team securing the country's first gold in 2000.
But Ambomo lost in the first round, which was hardly surprising as he says officials neglected to arrange any training.
It was a similar story for his colleagues. Team captain Thomas Essomba was the only one to win a bout, and Cameroon's campaign in the ring was over for another Olympics when he lost his second fight to Ireland's Paddy Barnes.
But it was more serious than that for the boxers: this was the end of their careers. So they, plus a footballer and a swimmer, left the athletes' village and disappeared into London's expatriate labyrinth.
A week later, the boxers - Ambomo, Essomba, Christian Donfack Adjoufack, Abdon Mewoli and Blaise Yepmou Mendouo - resurfaced at a gym in south London called the Double Jab.
They told the BBC in August they had been threatened by senior members of the Cameroonian delegation, and that they wanted to become professional boxers in the United Kingdom after their visas expired in November.
The Cameroonian authorities said they were economic migrants and dismissed their claims of threats as lies.
With 25,000 applicants for asylum in the UK a year, wanting to come here to make more money is not a good enough reason: to be allowed to stay you must demonstrate you are at immediate risk of persecution.
The boxers' initial asylum applications failed, but with help from church groups and other African emigres they have now been granted the right to stay. Ambomo is in Sheffield, Essomba and Yepdou Mendouo are in Sunderland, Donfack Adjoufack went to Middlesbrough and Mewoli is in Rotherham.
That was the easy bit. They now have to make the transition from amateur to professional boxing, with no track record in this country, no contacts, no ticket-buying audience and no English. They have got a lot of heart, though.
Ambomo turned up at Glyn Rhodes's Sheffield Boxing Centre gym with Ally Kalambayi, a Congolese pastor from a local African church, a few weeks ago. Rhodes, who fought 65 times in a 14-year career, was locking up when the pair appeared.
"You wouldn't believe who walks through these doors sometimes, so I'm used to it," says Rhodes, whose ring nickname was "Showboat" and is never more than about 30 seconds from a quip.
"One of our lads, who thinks he's a bit of a gangster, was leaving and said, 'Looks like you're in trouble, Glyn', because Serge might be small but he's got muscles on muscles, a Mr T haircut and a big, chunky watch on - you've got to box if you look like that.
"But then his pastor introduced himself and told me Serge's story. I soon realised that he wasn't just some kid from Wybourn (one of Sheffield's toughest estates)."
Ambomo came back to the gym - an upstairs room rammed full of boxing equipment and memorabilia in an old school building near Hillsborough - the following day, and has been doing so ever since.
One of the first people he impressed was Jez Wilson.
The British Masters middleweight champion has persuaded four other gym regulars to put in £100 each so Ambomo, who lives with his pastor and is on income support, can get his British Boxing Board of Control licence. His interview is in Huddersfield this weekend. It must seem a very long way from his home town, Ebebda.
"I'm going to have to make some phone calls," says Rhodes, mindful time is running out for his new charge at 27, but that he is also rusty and a hard sell.
"I think I'm going to have to take some chances with him. I don't think he'll sell tickets in Sheffield. But then you have the problem that if he looks too good, nobody will want to fight him either.
"But he needs a lift up and he loves boxing.
"Kids around here don't know they're born. We've got some who live at the top of the street but are too busy on their Xbox or iPad to come to training. Compare that to what Serge has been through."
Cameroon is not Afghanistan or Syria by any means, but its 200 different linguistic groups are ruled by an authoritarian government that does not allow much freedom of expression, and about one third of the population lives under the international poverty threshold.
When asked what he likes most about England, Ambomo says "the safety". He wishes Cameroon "peace" and prays for his family, who he claims are now in hiding.
"I'm very worried about them - my mum, dad, brother, sister, aunts and uncles - they've run away and I know that I'm perhaps the reason they have had to go."
It is difficult to know if this is true, but it seems pretty clear Ambomo believes it is.
Bongben Leocadia, a journalist based in Cameroon, says the story has not been reported in her homeland, but confirms life is hard for would-be Olympians in the country, with little in the way of sports infrastructure and no financial assistance outside of the main competitions.
This, of course, makes wealthy countries very attractive to athletes from developing or more oppressive nations, as has been the case for more than 50 years.
In 1956 it was Hungarians defecting at the Melbourne Olympics after the Soviet Union's tanks rolled into Budapest. Over the next three decades, a steady trickle of eastern Europeans would escape to the West whenever the opportunity arose. More recently, it has been African and Cuban athletes who have refused to go home.
British immigration officials were expecting this to happen at London 2012. As well as the Cameroonians, athletes from Congo, Eritrea, Guinea, Ivory Coast and Sudan have applied for asylum, with Eritrea's flag-bearing distance runner Weynay Ghebresilasie now prospering in Sunderland. The 19-year-old has won 10 of 15 races this year, setting three personal bests.
Can Ambomo achieve his dreams here too?
"I want to be a world champion here in the UK," he says, with a steely look in his eye.
"I'm ready for any fight, any boxer. I love men like Muhammad Ali and Mike Tyson, they inspire me. I want people to talk about me in the same way."