Barry McGuigan: 'Belfast's Carl Frampton will be better than me'
Last updated on .From the section Boxing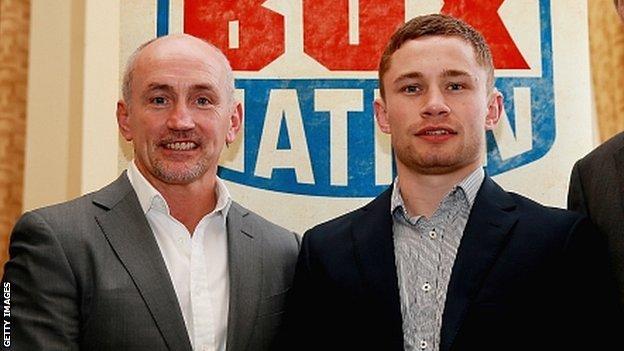 Boxing legend Barry McGuigan believes his protege Carl Frampton will be even better than him, and could eventually become a "global boxing star".
Belfast's Frampton defends his European super-bantamweight title against Frenchman Jeremy Parodi on Saturday.
"He's got more natural ability than me," said McGuigan, a former world featherweight champion.
"He's got enough talent and power to win world titles from 122lb to 130lb. He can be a global boxing star."
Frampton, 26, is unbeaten in 16 professional fights and victory over the experienced Parodi, who has lost just once in 37 paid encounters, would put him on the verge of a world title shot.
Frustratingly for Frampton, Spain's Kiko Martinez, whom he beat in February, won the IBF super-bantamweight title in his next fight.
But McGuigan, whose son Shane is Frampton's chief trainer, says he was buoyed rather than bowed by Martinez's sixth-round stoppage of Jhonatan Romero.
"It is frustrating for us because Carl is number three in the world but Romero wasn't willing to fight Carl in a voluntary defence," McGuigan told BBC Sport.
"Romero thought that because Carl knocked out Martinez, Martinez would be easy pickings. But we are also encouraged that Martinez was able to do to Romero what he did.
"Carl Frampton will win a world title, if not in his next fight, then the one after that.
"He hasn't got my pace and pressure but he can box going forward and going back and he's got more single-punch power than me."
Asked about a possible match-up with WBA title-holder Scott Quigg, McGuigan said the Bury man remained on their radar but that his charge was "in a different league".
McGuigan added: "Scott was decidedly average against Yoandris Salinas [Quigg drew with the Cuban in his first world title defence earlier this month].
"Scott is nice young fella and a good enough fighter with a nice style. He'll give Carl a decent fight but Frampton is a much more destructive puncher, has got a better chin and is much more intelligent.
"When those two guys get together there's only going to be one winner - and that's Carl Frampton.
"But we're not interested in talking about Scott Quigg at the moment. We've got to get past this next hurdle or we're going nowhere."