Carl Frampton demands toe-to-toe war with Jeremy Parodi
Last updated on .From the section Boxing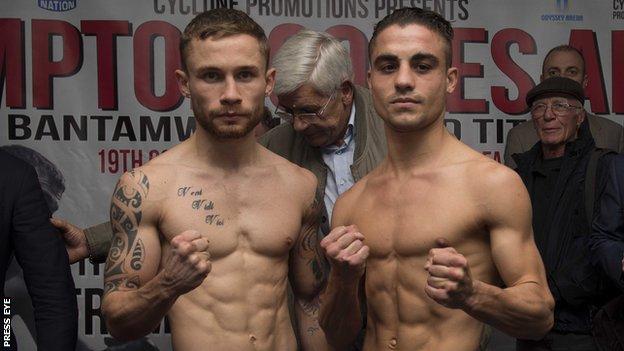 Belfast boxer Carl Frampton has called on his opponent Jeremy Parodi to make their world title eliminator at the Odyssey Arena a toe-to-toe war.
The two super-bantamweights will face off in front of a sell-out 8,500 crowd on Saturday night.
The winner is set to earn a tilt at the IBF world title currently held by Spain's Kiko Martinez.
At Friday's weigh-in, Parodi tipped the scales at 121 pounds, Frampton at 121.5, well inside the 122lb limit.
After hearing Parodi talk in midweek of trying to outbox him, Frampton believes the occasion will be a whole new experience for the man from Toulon and has urged him to give the fans a scrap to remember.
"It's amazing to be fighting in front of a sold-out arena. The atmosphere the last time was special against Kiko Martinez and I'm expecting it to be even better this time, there's even more people in," said Frampton.
"It's going to get hostile for Parodi - he would have never seen anything like it before.
"He's talking about that he wants to box me. If that's the case, I'll find a way to beat him, but I would like him to come and have a fight because that's going to make it more interesting and exciting for the fans," he added.
Frampton has admitted that once he takes care of business on Saturday night he has the desire to challenge the very best the world has to offer.
"I obviously want to box at home as much as possible but I would be telling lies if I said that I didn't want to fight in America before my career was over," he said.
"Rigondeaux is the main guy in the division, in my eyes, and everyone else's eyes - he's a hell of a fighter. He's getting on a bit though and I'll be ready to fight him in a couple of fights - I'm getting pretty close," said Frampton.
"But a massive fight for me and one I'm licking my lips over is Leo Santa Cruz, I would love that fight - it would be a tear up. I think our styles would gel and it would be a candidate for 'Fight of the Year'.
"I'm taking it one step at a time and after I get the job done on Saturday then we can talk about those guys," he stated.
Frampton, 26, is unbeaten in 16 professional fights, while Parodi has lost just once in 37 paid encounters.
Frustratingly for Frampton, Spain's Kiko Martinez, whom he beat in February, won the IBF super-bantamweight title in his next fight.