Bernard Hopkins says Floyd Mayweather fight could happen
Last updated on .From the section Boxing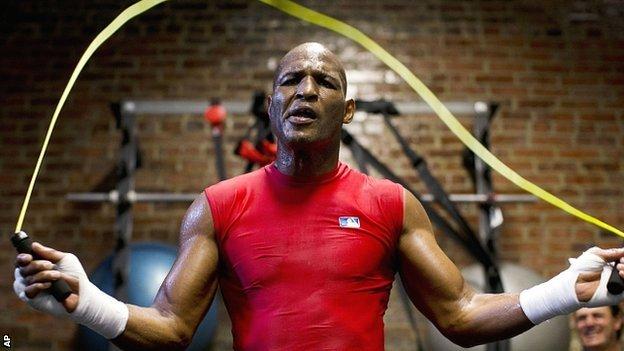 Bernard Hopkins claims a bout against Floyd Mayweather is a possibility and that he has discussed the idea with "powerful people" in boxing.
At 48, IBF light-heavyweight title holder Hopkins is boxing's oldest ever world champion, while fellow American Mayweather is a five-weight world champion and unbeaten in 45 bouts.
Hopkins defends his crown against Karo Murat in Atlantic City on Saturday.
"No-one else is going to beat Floyd Mayweather," said Hopkins.
"That's the reason I threw my hat in there. Can you imagine the promotion for that fight? I keep reminding people, there's a possibility of anything.
"I'm not chasing anybody; I'm not trying to pick on the little guy. But if you can find somebody else that people want to see fight [Mayweather], good luck."
Mayweather, 36, is the current WBC welterweight and WBC and WBA light-middleweight champion and has barely lost a round in his last few fights.
He was last in action outclassing Mexico's Saul Alvarez in Las Vegas in September, and there has been talk of a match against Britain's Amir Khan next May.
While Hopkins believes he could slim down to fight at his old middleweight division, where he reigned for 11 years between 1994 and 2005, Mayweather has never fought as a middleweight.
"I don't think Floyd is going to be moving up to 160lb," said Richard Schaefer, chief executive of Golden Boy Promotions, of which Hopkins is a partner.
"I just don't see it happening because Floyd is really a 147-pounder [welterweight]. For a fight or two he might be moving to 154lb [light-middleweight] but he's not a middleweight."
Hopkins broke his own record as the oldest boxer to win a world title when he beat IBF light-heavyweight champion Tavoris Cloud in New York in March.