Scottish boxers Joe Ham and Scott Forrest capture Games spirit

By Keir Murray
BBC Sport Scotland
Last updated on .From the section Boxing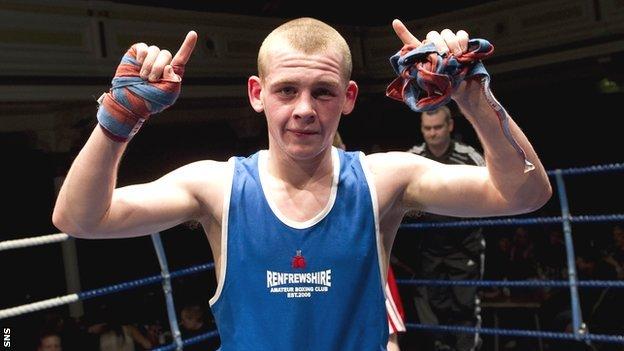 Joe Ham's was the only Boxing Scotland kit bag to show up at Glasgow Airport when the team returned from the World Amateur Boxing Championships in Kazakhstan following a 17-hour wait in Amsterdam's Schiphol Airport.
You can't help feeling he deserves to attract that kind of luck.
The 22-year-old fighter from the Gorbals in Glasgow is a 56kg package of energy and enthusiasm.
Despite the flight delay, the effects of jet lag and just three hours' sleep, he and his Scotland team-mate, Scott Forrest, were full of verve when they visited BBC Scotland's offices to engage in some fun sparring with schoolchildren and to talk about their Commonwealth Games dreams.
The pair have a busy training and fight schedule as they try to secure their place in the Scotland team.
Tournaments, such as the World Championships in Almaty and the forthcoming Tammer event in Tampere, Finland, are interspersed with frequent weekend training camps under the direction of Scotland team manager Mike Keane and technical coach Craig McEvoy.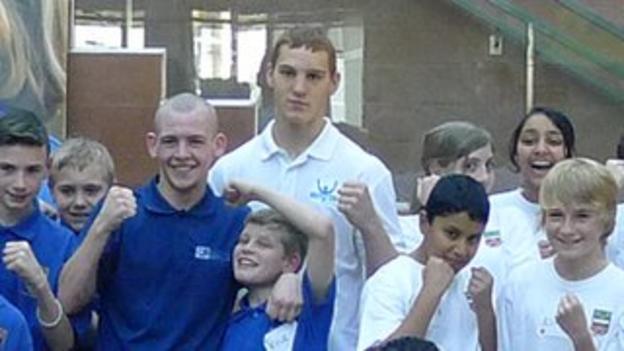 "By the time Glasgow comes, the 10 who get selected will be ready for anything," said Ham, looking ahead to the Games in his home city next summer.
Scottish champion for the past four years, he is enjoying regularly pitting his wits against international opponents. He sees that as the best way to improve.
"It's a hard tournament. It's all the best boxers," he added on his return from the three-week trip from the World Championships.
"It was a bit weird with no head guards and a situation we'd never experienced before, but it was brilliant.
"Kazakhstan got the most medals. They were the host nation. Sometimes you get home-town decisions, but they were brilliant - they did deserve every medal.
"When a country draws Scotland, they used to think it was an easy draw, but that's not the situation now.
"We've got a strong team. No-one looked out of place. The draw wasn't kind to us. We cut no corners for the tournament.
"Winning a fight at the World Championships is some achievement."
Indeed, Ham did win a fight at the tournament, a preliminary against Yakub Meredov of Turkmenistan, but then lost to Ukraine's Mykola Butsenko, who progressed to the semi-finals.
Forrest, now 19, won a silver medal as a youth at the World Championships last year.
That feat was always going to be tough to improve upon in his first year as a senior.
He beat the Dane Martin Pedersen in his opening bout at 81kg before suffering defeat two days later to Dutchman Peter Mullenberg.
"The boy I boxed was really good. It was a brawl," said the light-heavyweight from Forth in Lanarkshire.
"He got the decision in the end, unfortunately. He got silver at the Europeans, so I knew I was coming up against a really good boxer.
"But you learn from everything you do."
The Scots duo clearly enjoy absorbing new experiences, if not heavy punches.
At domestic level, Ham is coached by his father, Joe senior, at his Hayfield club, while Forrest is guided by Frank Delaney at Springhill ABC in Shotts.
Keane and McEvoy pass on their knowledge from their backgrounds in Commonwealth and Army boxing respectively and the boxers themselves also learn from competing in international tournaments.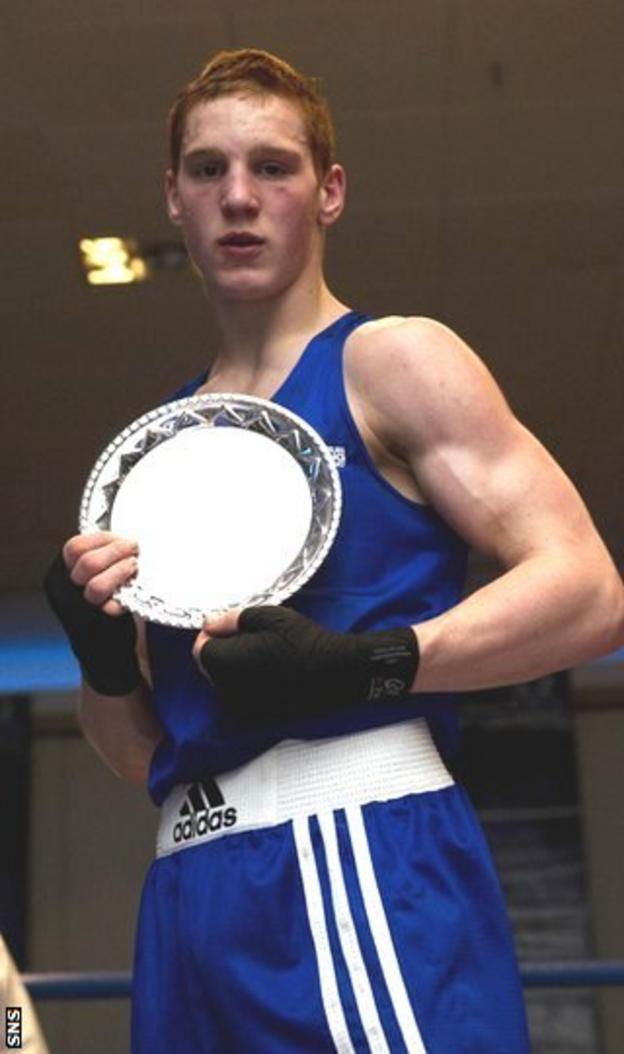 Coping with training at altitude in Almaty, refining tactics to benefit from amateur boxing's new scoring system and fighting for the first time without head guards all pose challenges.
Forrest explained: "There were so many clashes of heads because nobody had experienced it before.
"Before, you got in close and you had the head guard to protect you.
"But, at the World Championships, when you're in there close, you get a bump and you feel it. You actually get a bit of a shock.
"We've seen the styles the judges are looking for. You need to adjust. About 85% of the boxers who won the first round won the fight. You need a fast start.
"They don't want someone who is negative.
"You're not going to get better experience than that ahead of the Commonwealth Games. You are up against the best in the world.
"The Kazakhstani at my weight was the Olympic silver medallist, but he was beaten by a Cuban."
Ham and Forrest are desperate to feature in the Commonwealth Games next year, but their selection is not a formality.
While they amass qualifying points by competing in top-level tournaments, a second tier of boxers seek to claim a place.
They fight at lesser tournaments, such as the Golden Gong in Macedonia and the Golden Glove in Serbia, but for relatively fewer points.
"People are getting a shot to prove they should be at the Commonwealth Games, but I am not going to let anybody at my weight get there," stated Ham.
"I welcome the chase. It's good to be on your toes, but I've had that - it was a close fight between me and the boy for the Scottish championship.
"I feel I've moved to another level since then."
Forrest is targeting a medal in Glasgow and hopes that could propel him into Team GB for the 2016 Olympics in Rio.
Ham has already been part of the GB set-up but has no regrets about leaving it.
"It suits Josh [Taylor] and Aston [Brown], but it didn't suit me," he said. "I didn't like it. I'm a different boxer from last year. I'm at a different level.
"The two boxers from GB - Sean McGoldrick from Wales and from Gamal Yafai from England - both lost their first fights at the Worlds and I won my first fight.
"Even though you've got all the big gyms and this and that, it's down to you in the ring.
"They'll be going to Glasgow. I'm more than confident of beating anybody in Glasgow. I'll dismantle both of them.
"I used to go to tournaments just to compete, just to be there. Now I feel I go to win. I don't want to get beat. It's the worst thing."
Ham took up boxing at 13 because he "didn't like being chubby".
His gallus attitude arguably captures the essence of the city that will host the Games next summer.