James Toney: Requiem for a Heavyweight
By Ben Dirs
BBC Sport at York Hall, London
Last updated on .From the section Boxing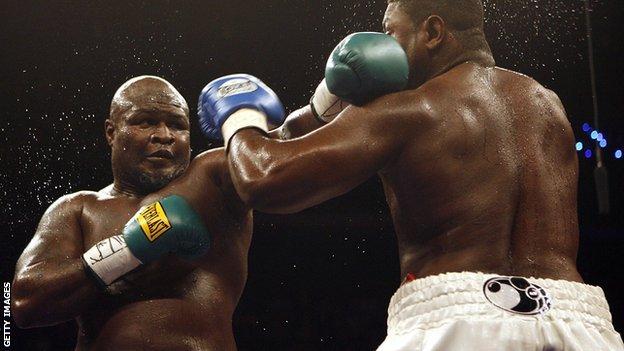 They gathered from far and wide to pay their respects to boxing royalty. "He's shot to bits," said one pilgrim at East London's fabled York Hall. "But we had to come and see him, whatever state he's in."
Standing room only, dangled over balconies, lining the walls, they watched in reverential silence as James Toney coaxed his dilapidated body into action. A victim of his own pride, a victim of his own bravery, a victim of his unyielding will. Squeezed like a lemon by this brutal sport of boxing. A man who appears all out of juice.
Torso rising from his shorts like a chocolate souffle, old man Toney should be rocking next to a fire, dreaming about past glories. Instead he fantasises wildly about glories unfulfilled in this brutal sport of boxing.
"I still have ambitions," Toney, 45, told BBC Sport before his appearance in Matchroom Sport's Prizefighter tournament. But scrapping for a first prize of £30,000, albeit live on Sky, is a long way from topping the bill at the MGM Grand in Vegas.
Especially when the kid on top of the poster, British heavyweight prospect Anthony Joshua, is in his third professional fight.
"This is a good way to make a name for myself," he added. "I have more things to do. I want to become undisputed heavyweight champion of the world. My job is to revive the sport of boxing."
This brutal sport of boxing, that hates its participants taking too much. Three-weight world champion, future Hall of Famer, one of the modern greats, Toney took too much. Boxing has been waiting in ambush, now comes the vengeance.
Transcribing our conversation was sad and tortuous. Words repeated, whole sentences incomprehensible. The mind remains sharp but the mouth can't keep up. Doctors and promoters tell us that Toney is healthy and declare him fit to fight. Fit to fight what?
Before Thursday, Toney had fought an almost incomprehensible 88 fights and 666 rounds as a pro. Numbers of a beast. Matt Legg, his quarter-final opponent, had fought seven pro fights and 22 rounds. At least Legg has something to tell the grandkids. Toney will probably be keeping quiet about this surreal old night.
Better to bounce the grandkids on his knees and tell of the time in 1991 that James 'Lights Out' Toney upset the great Michael Nunn to become, at 22, the youngest middleweight world champion for more than half a century.
"Left hook - POW! - over Nunn goes in the 11th round. Up he gets at nine, wades back into the mayhem. POW! Over he goes again. My greatest night among many great nights."
Or of the time he savaged Iran Barkley in 1993 to claim the IBF super-middleweight crown. Back when Toney, whose father shot and wounded his mother when he was only one, was still full of filth and fury. Toney, a self-styled former gun-toting crack dealer, out to prove dad wrong. I much preferred him then.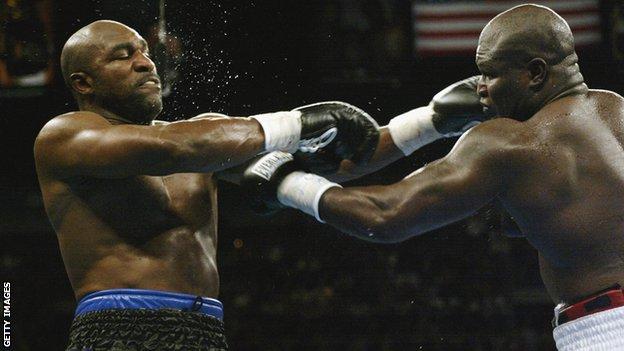 For two rounds against Legg, a 37-year-old clogger from Milton Keynes, Toney crept and creaked and flailed the odd right hand. Then, a minute into the third, Toney made Legg miss, swayed out of range and promptly finished the job. The one bit of class in the entire tournament and proof that Toney is at least still acquainted with a killer instinct, however accommodating the prey.
"The worst thing that could happen," says one of Toney's team after his opening victory, "is if James wins this thing. He'll think he can take on the world again." Again? Truth is, it's a thought he has never stopped thinking.
"I keep telling people," said Toney earlier in the week, "I'm the past. I'm the present. I'm the future. We have a cancer in the heavyweight division - the Klitschko Sisters. And I want to fight Deontay Wilder. I'd love to get a piece of that little punk. He's weak. He's garbage. I'm not impressed by him at all."
First Toney had to get past Jason Gavern, a former police officer from Florida with one of the most inappropriate nicknames in boxing. 'The Sensation' is so sensational he had lost seven of his last 10 fights before Thursday.
In his quarter-final, Gavern greeted the first punch landed by Londoner Larry Olubamiwo with a high-pitched "whoo" and spent most of the contest mugging for a receptive crowd. Apparently the judges were hankering after a spot of old-style, music hall slapstick because Gavern was awarded the decision.
Gavern's semi-final against Toney was more of the same. Lots of "whoos", not much action. At the start of the third and final round, Toney cuffed Gavern round the ear instead of touching gloves. Toney having been admonished by the referee, Gavern tried the same trick, missed and ended up in a heap on the canvas.
Great boxers, like high-ranking politicians, rarely make dignified exits. Having been bashed about and laughed at, Toney got the rough end of a tight decision. A quick hug with Gavern and Toney was gone. But not for good.
"What do I say to people who think I should quit?" said Toney. "I thank them for their concern. But the day I get carried out of the ring is the day I might possibly think about quitting. And that's not gonna happen.
"I'm not banged up, I still speak intelligently. I'm not dumb, I know what I'm doing. I'm aware of my surroundings at all times and that's what matters. Usually guys of my age damage their legacies by fighting poor opposition, but I'm trying to fight the best here. My greatest achievements are yet to happen."
What to do? Stick a net over him and lock him up for his own good? A boxer can have all the well-meaning connections in the world but they only live vicariously through his body. They don't pound roads, don't kill themselves in gyms, don't take the blows. "What," a boxer might ask, "do they know?"
Bernard Hopkins, still a world champion at 48, calls himself 'The Executioner' - but he should call himself 'The Exception'. Because he is exactly that, an exception to the rule that boxers who go on too long suffer for their delusions.
Most carry on brutalising their bodies in the name of the brutal sport of boxing with not much to show for it.
The real sadness is seeing a once great craftsman cannibalised by the qualities that made him great - that pride, those skills. And seeing a once great craftsman unable to bend his body to his will.
They gathered from far and wide to pay their respects to boxing royalty. But they didn't actually see him. That man being picked off by a former police officer going "whoo" - his lights started flickering long ago. Lights On. Lights Out. Lights On. Lights Out...