Vitali Klitschko: Heavyweight champion swaps boxing for politics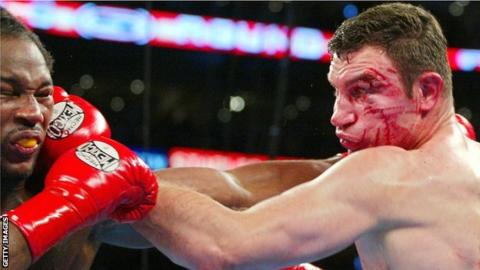 World heavyweight champion Vitali Klitschko has given up his WBC title and says he is unlikely to fight again because he is focusing on politics.
The World Boxing Council has made him a "champion emeritus", which would allow him to directly challenge a new champion if he wants to resume boxing.
But the 42-year-old, who is a Ukrainian opposition leader, said: "That is something I currently cannot imagine.
"My focus is on politics in Ukraine and I feel the people there need me."
Massive crowds have demonstrated for weeks in Kiev against President Viktor Yanukovych's decision to shun closer ties with the European Union and Klitschko, who is very pro-EU and plans to run for president in 2015, has been prominent in the protests.
They were sparked by the Ukrainian government's decision not to sign a partnership deal with the EU - a move which seemed to come as a result of pressure from Russia.
The 6ft 7in heavyweight has won 45 of his 47 professional fights, 41 by knockout, with one of his two defeats a controversial reverse against Britain's Lennox Lewis in 2003.
The Ukrainian's younger brother Wladimir holds the other significant world heavyweight belts.
"I thank the WBC and its president Jose Sulaiman for the support in our battle for democracy and freedom in Ukraine," added the older Klitschko, who is leader of the Udar (Punch) political party.
Klitschko's last fight was in September 2012 when he stopped Manuel Charr in the fourth round.