David Price to train with Mike Tyson's ex-coach Tommy Brooks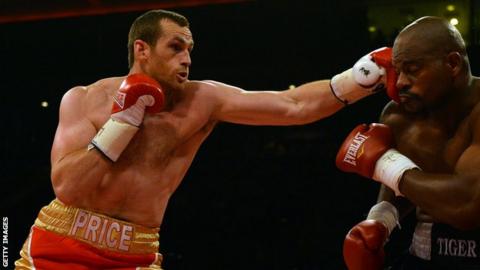 Former British and Commonwealth heavyweight champion David Price has named Mike Tyson's ex-trainer Tommy Brooks as his new coach.
Price, 30, had a brief spell with London-based Adam Booth but will now train in Liverpool, with American Brooks flying in for coaching sessions.
Their first fight working together will be the rearranged clash against Evgeny Orlov on 25 January in Stuttgart.
Brooks has trained several world heavyweight champions, including Tyson.
He has also coached Evander Holyfield, as well as brothers Vitali and Wladimir Klitschko.
Price had been due to fight Russia's Orlov in Germany on 14 December but was forced to pull out because of a virus.
It will be the Liverpudlian's return to the ring after two defeats against American Tony Thompson earlier this year.
"I have been waiting for the phone to ring to work with a fighter who can make it to the top," said Brooks.
"The heavyweight division is becoming very exciting again with a fresh young crop of talent coming through and Britain has some of the best prospects, but David has all the attributes needed to dominate the division."
Price left long-time trainer Franny Smith in August following the second defeat by Thompson before joining up with Booth, who also coaches former world champion David Haye, in October.