Who could - and should - fight whom in 2014?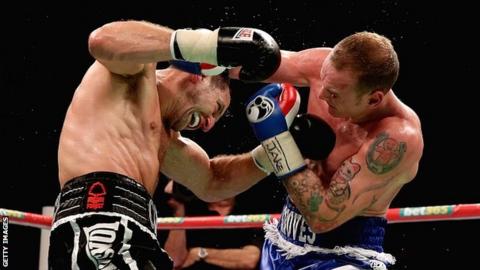 Even Floyd Mayweather can't afford magic lamps. But on the off chance a genie ever offers you three wishes, you would be wise not to waste one of them on boxing. Because in boxing, wishes often don't come true.
But optimism is an essential trait for any boxing enthusiast. Without it, all those dream fights that never come off would leave us feeling very punchy indeed. So here is a list of 10 fights that might happen in 2014. Some of which definitely will not.
Carl Froch v George Groves II
Froch's ego - not to mention his face - was left battered and bruised by Groves when they first met last November. Froch held on to his WBA and IBF super-middleweight titles with a controversial ninth-round stoppage but Groves emerged from a barnstorming encounter the undisputed people's champion.
Froch, 36, says he is unwilling to hand Groves, 25, another pay-day and insists he has other options. The rematch Froch really wants is against American Andre Ward, who gave the Nottingham fighter a boxing lesson in 2011. And with Ward seemingly warming to the idea, Froch-Groves II looks like it is dead in the water. At least for now.
Andre Ward v Gennady Golovkin
Ward has plenty of options but is not exactly box office in the United States, largely because he is too good for his own good. However, one opponent who would get the tills ringing is stone-fisted WBA middleweight champion Golovkin.
The 31-year-old from Kazakhstan has a fine amateur pedigree, 25 knockouts from 28 pro contests, a burgeoning following and fights on the same American channel as Ward. It is a match that would make both men and everyone else involved plenty of money. In boxing, that tends to swing things.
Sergio Martinez v Gennady Golovkin
Golovkin may be on a run of 17 straight knockouts, including nine in world title fights, but there are those who feel he remains untested at the highest level. Enter Argentine veteran Martinez, the WBC middleweight champion who has long been thought of as one of the finest pound-for-pound fighters in boxing.
Martinez turns 39 in February and there were signs in his last fight, a narrow victory over Englishman Martin Murray in April, that he is over the hill. As such, Martinez-Golovkin is a potential changing of the guard engagement.
Adonis Stevenson v Sergey Kovalev
Stevenson and Kovalev smashed their way to the forefront of the 175lb division in 2013. Having done all that smashing - together they have knocked out 78% of their opponents inside three rounds - they might want to consider smashing each other.
Russia's Kovalev, who claimed the WBO title from Welshman Nathan Cleverly in 2013, is sweet on the idea. Stevenson, who defended his WBC title with a brutal knockout of Liverpool's Tony Bellew in his last fight, is less so. Stevenson will probably fight the winner of Jean Pascal-Lucian Bute next.
Wladimir Klitschko v Kubrat Pulev
Klitschko retained his three-quarters of the world heavyweight crown with a one-sided, sometimes farcical victory over Alexander Povetkin last October. It was further proof, as if it were needed, of how far the heavyweight division has fallen.
Alex Leapai is likely to be Klitschko's next opponent. But while the 34-year-old Australian is destined to be more fodder for the gnarled Ukrainian, unbeaten Bulgarian Pulev might have the tools to keep Klitschko honest. At least that's something.
Tyson Fury v Deontay Wilder
Every wish list needs a bit of fun on it and this is about as fun as it gets: two big, wild men in the business of throwing bombs and not too fussed about the art of defence.
Having endured a frustrating 2013, what with his scheduled fight against the now-retired David Haye falling through, Fury deserves a break. His promoter Mick Hennessy is already in talks with Wilder's team, although talks often go wrong.
Stuart Hall v Jamie McDonnell II
Doncaster's McDonnell won the IBF bantamweight crown last May, only to be stripped in typically mysterious fashion a few months later. McDonnell's loss was Hall's gain, because the Darlington boxer won the vacant title with a stirring win over South Africa's Vusi Malinga four days before Christmas.
McDonnell outpointed Hall in 2011. Hall is hungry for revenge. Of all the potential match-ups on this list, this one is the most likely to happen.
Leo Santa Cruz v Carl Frampton
If you want further proof of the inherent madness of boxing, look no further than the respective careers of Kiko Martinez and Frampton. Spain's Martinez started 2013 as the European bantamweight champion, lost the title to Frampton in February and won the IBF crown six months later. Frampton, meanwhile, is still waiting for a world title shot.
Martinez says he wants to fight Bury's WBA title-holder Scott Quigg next, which means Frampton might take the WBC route instead. The WBC champion is unbeaten Mexican Santa Cruz, so somebody's '0' would probably go, most likely at a rocking Odyssey Arena in Belfast.
Floyd Mayweather v Manny Pacquiao
Mayweather may not own a magic lamp but he did post a 2014 wish list on Twitter. On it were Britain's Amir Khan, Argentine tough guy Marcos Maidana and Philippine legend Manny Pacquiao.
It looks likely Khan will get his shot in May, while Maidana, who lost to Khan in 2010 but humbled Adrien Broner last month, could get his chance in September. For reasons that have been reported on in forensic detail over the years, Mayweather will not fight Pacquiao, this or any other year. That's the problem with wish lists - they're not worth the computers they're typed on.
Manny Pacquiao v Ruslan Provodnikov
Having suffered a devastating defeat by old rival Juan Manuel Marquez in 2012, Pacquiao returned to form with an impressive victory over Brandon Rios last November. Having proved there is plenty left in the tank, Pacquiao may decide to take on Provodnikov, dubbed The Siberian Rocky, next.
Both men are trained by Freddie Roach but the venerable American cornerman concedes the fight will happen if the right money is raised. With WBO light-welterweight champion Provodnikov apparently up for it and Pacquiao's promoter, Bob Arum, making all the right noises, this could be a goer.