Darren Barker: Former world champion announces retirement
Last updated on .From the section Boxing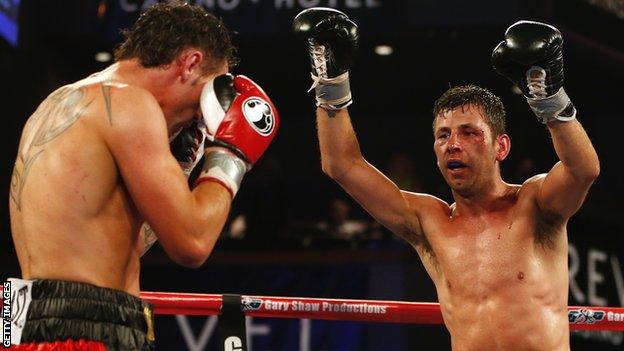 British former middleweight world champion Darren Barker has announced his retirement at the age of 31.
Barker won British, European and Commonwealth titles and took gold at the 2002 Commonwealth Games.
"I'm so proud and happy at what I've achieved," he said.
"When I won my first national title as a kid, I could have retired a happy boy then so to have won all the major titles possible... I'm a very, very happy man."
Barker beat Australian Daniel Geale by a split decision in Atlantic City in August to win the world title but lost it to Sturm in his next fight in Stuttgart.
Trainer Tony Sims threw in the towel in the second round of that fight, and said later: "I don't really think you'll see him in a ring again now."
Barker had surgery on both hips in 2010, after which he was out of the ring for more than 12 months.
Promoter Eddie Hearn said the fighter was "an exemplary role model" and a "wonderful ambassador for boxing".
He added: "That night in Atlantic City was for me, as many of us, one of the greatest of my life but what makes me happier is that Darren can leave the sport in peace.
"He can retire financially secure... knowing that he achieved the greatest dream of all and no-one can ever take that away from him."
Barker dedicated his entire career to his brother Gary, who died in a car crash aged 19 in 2006.