George Groves turns down Carl Froch rematch chance
Last updated on .From the section Boxing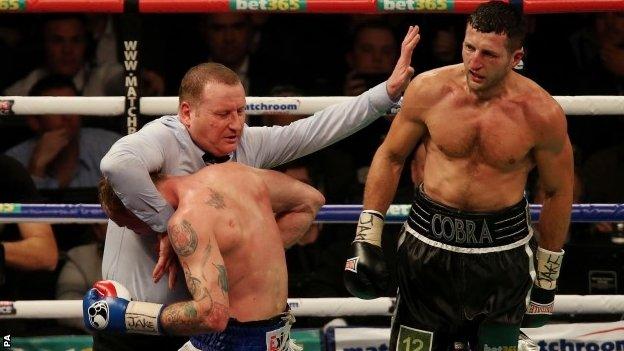 George Groves has turned down a "seven-figure offer" for a rematch with domestic rival and WBA and IBF super-middleweight champion Carl Froch.
"We made a seven-figure offer that would have seen him earn around double that of the first. Disappointingly, George rejected this," said Froch.
Groves replied: "The offer came with many stipulations and options I felt were unsatisfactory."
The 25-year-old continued in a statement: "I am unsure why Carl Froch has released a statement implying I do not wish to take the fight, as I was under the impression we are still in negotiations.
"I am currently awaiting an improved offer from his promoter, as well as speaking to other promoters interested in promoting this fight.
"If I didn't want to fight Carl Froch, then I wouldn't have invested so much time and money into appealing with the IBF over the dubious outcome of the first fight. And I await the outcome of that hearing in the very near future."
Froch will instead aim to arrange a fight with Mexico's Julio Cesar Chavez Jnr.
The Nottingham fighter beat Groves in Manchester on 23 November with a stoppage in the ninth round, but the decision was met with a negative response from much of the crowd.
Afterwards, Groves insisted the contest had been ended too soon: "The fight should never have been stopped and I don't know why it was stopped.
"I feel the referee got it wrong, and it's a bitter pill to swallow right now."
Froch, 36, was booed out of the ring and veteran promoter Barry Hearn - whose son Eddie promotes both fighters through his Matchroom stable - called a re-match "almost essential".
In Friday's statement, Froch said: "I understand the demand for the Groves fight in the UK, but also the demand in the US for the Chavez fight.
"Talks are ongoing and no doubt some further news will break soon. I'm happy to fight anyone, as I have done throughout my entire career."