One of Scotland's top female boxers claims sex discrimination
By Jane Lewis
BBC Scotland Commonwealth Games reporter
Last updated on .From the section Boxing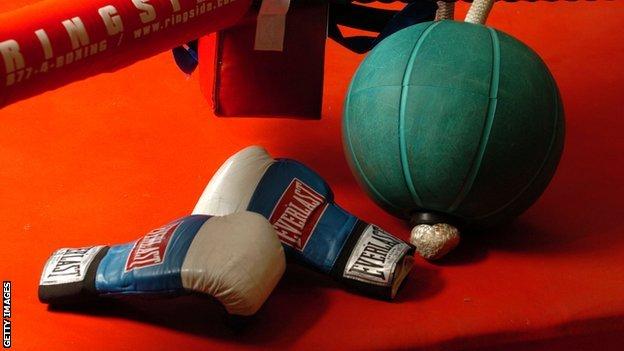 One of Scotland's top female boxers is accusing the sport's governing body, Boxing Scotland, of sex discrimination and has taken her case to the Equality and Human Rights Commission.
The Commission has asked Boxing Scotland to set out its position.
BBC Scotland has also learned that a group of female boxers have complained to sportscotland about a lack of opportunities to develop their careers.
The agency says it does not "directly interfere in internal disputes".
Instead, sportscotland urges complainants to deal directly with the sport's governing body, in this case Livingston-based Boxing Scotland, who this week opened a new national performance centre for elite boxers in Glasgow's Bridgeton area.
Female boxing makes its Commonwealth Games debut in Glasgow this summer but there will be no Scottish boxers competing at the SECC venue.
Boxing Scotland says there are no Scottish female boxers good enough to compete at the Games.
The female boxer whose case lies with the Equality and Human Rights Commission wishes to remain anonymous. The Commission is considering its next steps.
In July 2012 a group of female boxers signed a letter of complaint to sportscotland.
They claimed there was a lack of financial investment in them by Boxing Scotland, no regular training camps or tournaments and that there were instances of derogatory language being used to describe some female boxers.
The alleged derogatory comments were made in a report on Boxing Scotland's website about the 2010 Scottish Championships.
In a statement, Boxing Scotland said: ''The 2010 finals report was delivered by a third party, the post was removed when we became aware of the comments and we no longer engage their services.''
Stephanie Kernachan, 21, trains at Newarthill Amateur Boxing Club. She took up boxing just before her 15th birthday.
She had no involvement in the letter to sportscotland but agrees with some of the points.
She said: "I feel I'm not getting the opportunities to box at such a high level. Most of my fights I've paid for me to go, or my sponsor or the boxing gym has paid for them.
"I'd only have had half the amount of bouts if it wasn't for me paying to go to Sweden, Germany or down to London.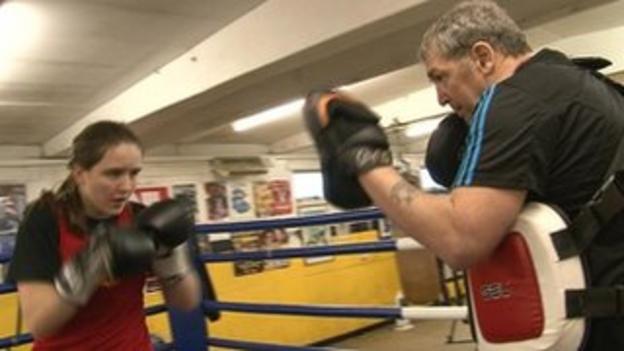 "It's really hard to get competition. To box at the Commonwealths you need to be at that international level but there is just nothing happening.
"Two years ago I got my first international but since then nothing has come my way.
"How can we get better if we are not getting the opportunities and the training that the boys are getting?"
Several boxers have told BBC Scotland that they blame the absence of women in Scotland's Commonwealth Games team, which has yet to be finalised, on Boxing Scotland.
The organisation says all athletes are supported fairly and equally according to their ability and level regardless of sex, race or any other such factor.
It says it "encourages boxers to continue to develop their skills through the club networks, championships and training opportunities".
And adds: "Without ever blunting any boxer's enthusiasm and ambitions, these decisions [not to put athletes into elite level competition] are taken to ensure the boxer's health and welfare, which is a fundamental responsibility for Boxing Scotland.
"A key objective for Boxing Scotland is the delivery of a world-class performance programme for Scotland's elite boxers led by our national coach.
"Athletes must meet set criteria in order to benefit from elite funding. This funding comes from our key partner sportscotland and is focused on those athletes with medal potential at Commonwealth, Olympic, European and World level.
"Of the 1,700 athletes registered with Boxing Scotland, 15 currently meet this level, providing our elite boxers with the support and structured performance pathway to represent Scotland with distinction on the global stage."
As things stand, there are no females in the elite group of 15.
Boxing Scotland says that since 2009 the number of clubs has increased from 93 to 107 and there are 400 more registered boxers. It says there are also up to 8,000 recreational users who attend their clubs.
Its statement says that in the past five years it has grown female participation in boxing from three athletes to 57. It says it works to promote diversity.
The statement continues: "As part of our continuous search for talented athletes, we regularly run talent ID training sessions and assessment camps for all boxers ensuring no medal potential athlete is missed."
In 2011/12 Boxing Scotland applied to sportscotland for £20,000 in extra funding to specifically set up a development programme for female boxers. This, though, was rejected.
In the two years since, sportscotland has provided it with funding of £370,000 in 2012/13 and £461,000 in the current financial year.
A spokesperson for the agency told BBC Scotland: "We do not directly interfere in internal disputes involving sporting bodies and recommend complainants deal directly with the sport.
"Our investment into Boxing Scotland - as well as other sports - is integrated and non-gender specific, and it is for the sport to determine its development and performance programmes based on our investment criteria for Commonwealth Games and Olympic/Paralympic cycles.
"In recent years, as part of the agreed investment targets for the sport, Boxing Scotland has successfully increased the number of registered female participants from just three to 57 but, so far, based on our Mission 2014 process, Boxing Scotland has not put forward any female boxers within the funded performance programme.
"We are working closely with Boxing Scotland to maximise opportunities for all female and male boxers in Scotland to help them reach their potential."