Bernard Hopkins backs research into head injuries in contact sports
Last updated on .From the section Boxing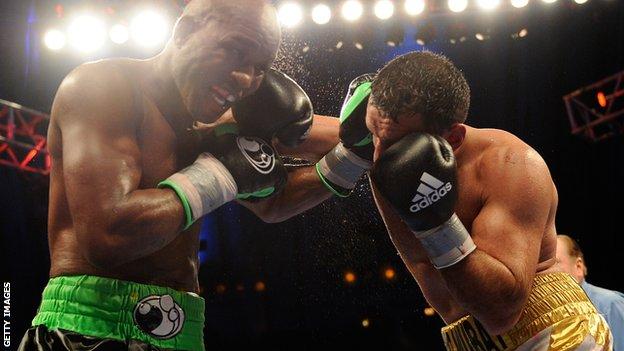 Boxing's oldest world champion Bernard Hopkins has backed a major study into head injuries in combat sports.
US Senators John McCain and Harry Reid joined US promoters and sanctioning bodies for the Las Vegas-based study, which has been ongoing for two years.
Rival boxing promoters Golden Boy - who represent Britain's Amir Khan - and Top Rank have given their backing.
"If we don't do this, support for these sports will wane among the American people," McCain said.
The study, at the Cleveland Clinic Lou Ruvo Center for Brain Health, uses computerised mental testing and advanced brain imaging in an effort to pin down exactly which injuries contribute to later degenerative brain disease, whether some people are at greater risk and what the early indicators of brain disease are.
Many believe boxing, as well as being instantly dangerous to the brain, can have an cumulative effect on the body.
Around 400 active and retired boxers have agreed to take part.
As well as Golden Boy and Top Rank, Spike TV's "Bellator MMA" mixed martial-arts promotion and the Ultimate Fighting Championship have offered around £377,000 in funding to add to the £1.3m that the Cleveland Clinic has already spent.
Hopkins, who broke his own record as the oldest world champion in 2013 when he beat Tavoris Cloud to win the IBF light-heavyweight title at 48, attended the announcement at Washington, DC.
The 49-year-old former middleweight legend believes attention to his health has been key to his longevity in the sport.
WBO super-featherweight champion Mikey Garcia was also in attendance as combat sports follow in the footsteps of American football and rugby union in investigating brain injuries.
Amateur boxing's governing body, International Boxing Association (AIBA), has studied the effects of concussion in the sport and came to the controversial decision to remove headguards for elite senior men in 2013.
AIBA's medical commission studied more than 2,000 bouts, while independent research in a recent British Journal of Sports Medicine article - which studied 30,000 contests over 59 years - both supported the change in policy.
In August 2013, the National Football League reached a £490m settlement with former players who claimed the governing body had hid the dangers of concussion.
The NFL will fund concussion-related compensation, medical examinations and research.
More than 4,500 former players had sued the league, alleging it concealed the risks of long-term brain damage.
Earlier in 2014, the Rugby Football Union announced that all professional rugby union players and coaches in England will have compulsory education on concussion before the start of next season.
It is a move designed to safeguard player welfare amid increasing concerns about concussion.