David Haye refuses to rule out ring return after shoulder surgery
Last updated on .From the section Boxing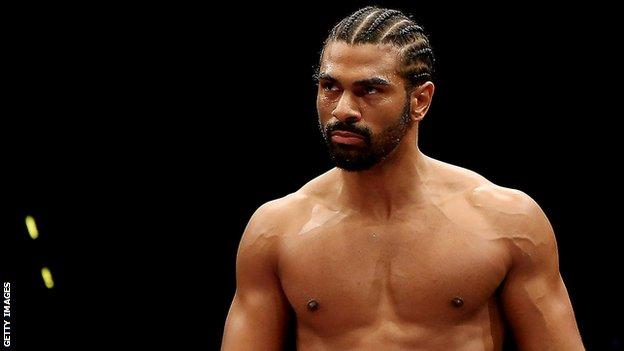 Former world heavyweight champion David Haye is refusing to rule out a return to the ring, despite being advised to retire after major shoulder surgery.
The Briton's career has been in doubt since a five-hour operation on his right shoulder in November.
"You talk to 10 doctors, 50% say you can make a recovery and 50% say, 'no you're done, you'll never be able to throw a punch again otherwise your arm will fall out of its socket'," he said.
"No-one knows how it's going to heal."
The reconstruction surgery forced Haye, 33, to cancel an all-British bout with Tyson Fury scheduled for 8 February.
The pair were originally due to fight in Manchester in September but the bout was rearranged for February after Haye suffered a cut above his left eye in training.
Fury has frequently mocked Haye's injury and subsequent recovery. His uncle and trainer, Peter Fury, said he was not surprised that February's fight was cancelled.
Haye, who became WBA heavyweight champion in November 2009 and retired in October 2011 before returning to the sport, says the surgery was so severe that he is still not able to run three months later.
"At the moment I can't throw a punch, so hopefully in a few months I'll be able to throw one, but you never know," said the Londoner.
"I can't say 100% yes or 100% no, I'm just taking every day at a time.
"I won't know anything for a good few months yet. My shoulder's bad enough that I can't even run yet.
"That shows you how far away I am from being able to punch. It's going to take a little while, but I'm working hard on the rehab."
Haye announced his retirement in October 2011, three months after losing his WBA belt to Ukrainian Wladimir Klitschko in Germany, but he returned to the ring the following year.