Amir Khan admits Mayweather fight will not take place
Last updated on .From the section Boxing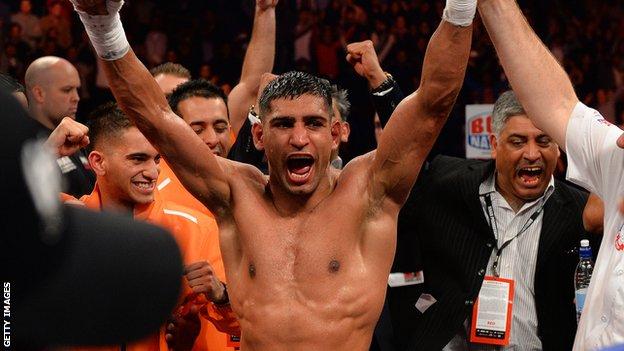 Britain's Amir Khan has admitted defeat in his attempts to lure Floyd Mayweather into a fight.
But Khan has accepted he will not be Mayweather's next opponent, although no official announcement has been made.
"No response from Mayweather or his team," Khan, 27, wrote on Twitter. "Fight's not happening."
Bolton fighter Khan signed a deal in December which he hoped would lead to a showdown with the unbeaten Mayweather, who currently holds world titles at welterweight and light-middleweight.
But Mayweather, who has had 45 career fights, tweeted on 3 February: "I'm going to let the fans vote. Tell me who I should fight next. Khan or Maidana?"
After several weeks of delay, Khan has finally voiced his frustration in a series of tweets and admitted he regretted not taking a fight with Devon Alexander for the IBF welterweight title, which was shelved after terms were not agreed.
"I should have taken the title fight last December against Alexander," wrote Khan, who has 28 wins and three defeats.
He admitted he felt "very disrespected by his team. Wasted my time. Good luck to Maidana against Mayweather.
"Can I apologise to the thousands of people who are let down. You, me and everyone wanted the Mayweather fight. He's running scared."
Khan beat Maidana in Las Vegas in December 2010 on a unanimous points decision, with his last fight a dramatic points victory over Julio Diaz in Sheffield in April 2013.