Carl Froch claims Nottingham will host George Groves rematch
Last updated on .From the section Boxing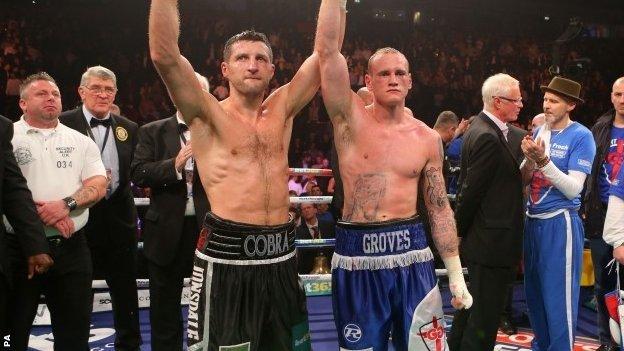 Carl Froch says Nottingham's City Ground is the most likely venue for his rematch with George Groves - but his opponent thinks otherwise.
Froch tweeted: "City Ground is now the front runner."
Groves responded: "Before you all book your trains to Nottingham because the Sheriff has tweeted - I very much doubt King John would send us all there!"
Manchester United's Old Trafford and Arsenal's Emirates Stadium were thought to be the top contenders for the super-middleweight fight on 31 May.
Many observers, including BBC boxing commentator Mike Costello, consider the bout to be the biggest rematch in British boxing since Chris Eubank fought Nigel Benn for a second time at Old Trafford in 1993.
Froch-Groves II is expected to break the box-office record for a British fight.
There were bitter recriminations in the wake of the first contest between Froch and Groves at the Manchester Arena.
Groves led on points after flooring the champion in round one but referee Howard Foster stepped in to halt proceedings when Froch went on the attack in round nine.
The International Boxing Federation ruled in January that Foster had acted inappropriately, and ordered Froch to have a rematch with Groves within 90 days or risk losing his IBF belt.