Vitali Klitschko: Boxer turned politician faces biggest fight

By Mike Costello
BBC presenter & commentator
Last updated on .From the section Boxing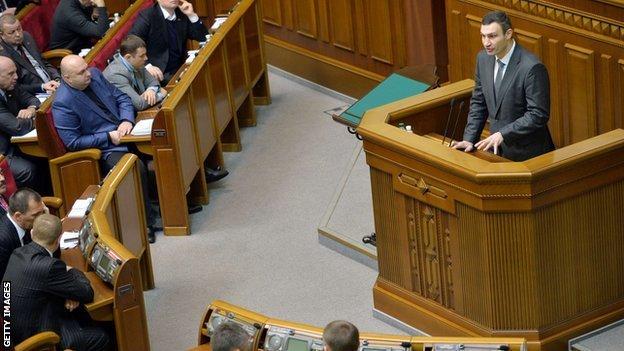 It is hard for a man of his size to hide. In a 16-year professional boxing career, Vitali Klitschko called on courage and conviction to secure a place in sporting history and now those same qualities have tempted him away from one arena of cut-throat conflict to another.
For the past five of those years, he has juggled his emotions and passions, attempting to increase his influence and impact in Ukrainian politics while retaining a world heavyweight title that was his reward for decades of dedication and sacrifice. He last fought in September 2012 and with every passing month it became more likely that his focus was being diverted.
In October 2013 he announced his intention to run for the presidency in the planned 2015 election, and two months later he said he would be taking a break from the ring, declaring that the needs of his country were greater than his own remaining boxing ambitions. And so he took to the streets, playing a visible role in the hostilities that had come to threaten the very make-up of his nation.
The country's elected president, Viktor Yanukovych, and his allies were ousted in a popular uprising in February. Yanukovych fled the Ukrainian capital Kiev following four months of anti-government protests which degenerated into a bloodbath. At least 88 people were killed, many of them shot dead in clashes with security forces, and an election will take place on 25 May.
"No fight, no win," Klitschko said recently.
One enduring image was captured last month on TV screens, websites and newspaper front pages across the world, showing the 42-year-old's face covered in powder from a fire extinguisher as he came under attack while talking to protesters in Kiev. He has become an easy target for political analysts, too, as his level of experience is denounced as an insurmountable flaw.

"As I see it from the outside," says his long-time manager Bernd Bonte, "Vitali is electable because he was never involved in the so-called 'old' politics there. No corruption, he was never supported by any oligarchs or any strange people. The people know he made his money inside the boxing ring, not through some dark sources. That's a big, big plus.
"My feeling and my impression is that Ukraine is ready [to accept Vitali as president], especially because of his reputation. Of all these people running, he is the only one with a clear background, where people know how he made his millions. He has the right advisers and the right ideas and because he lived so many years in Germany and the US, he knows what a democracy means."
Public speaking is not considered one of Klitschko's strengths, but that might not prove a problem, according to Olexiy Solohubenko, BBC News's Ukraine expert. "Klitschko has a good reputation in the country: while being very rich, people think he earned his money honestly," he says. "And not being seen as corrupt sets him apart. Will this be enough for the heavyweight? Forecasting Ukrainian politics is like gambling in boxing."

The stereotypical portrait of boxers is often inaccurate and rarely more so than in the case of Klitschko. He speaks four languages and has been awarded a PhD in sports science. He and his younger brother Wladimir set up the Klitschko Foundation to help under-privileged children everywhere and they are Unesco champions for sport - roles and commitments which have brought them into contact with the great and the good in many countries.
In hindsight, it might be argued that Vitali's boxing career was only ever a means to an end.
Bonte came into contact with him while working in the German media and was struck early on by the big man's interest in events beyond the ring:
"I remember very well flying back from a Lennox Lewis fight in the US in 1999," he recalls. "We both couldn't sleep and we were talking all these hours back to Europe. In nine or 10 hours, we spoke for maybe 10 minutes about boxing and the rest about history and politics.
"I am an MA in politics and history and I could see how interested he was about politics in general, about German history. I was not surprised that he later founded his own political party."
Klitschko established the Ukrainian Democratic Alliance for Reform (Udar) in 2010 and many of the principles which served him well as a boxer will be key to his prospects as a force for change.
From the moment he turned professional in 1996, he has surrounded himself with trusted advisers. "You have other good examples in politics," says Bonte. "You have to have the right people around you and that is the case with Vitali."
At a fraction over 6ft 7in, he is among the tallest heavyweight champions in history. He and Wladimir are the only brothers to hold versions of boxing's most coveted prize at the same time.
In a sport synonymous with sad endings, their names are unlikely to be heard accompanied by the sound of violins. Rarely have the men who take the blows retained more control over their lives, their careers and their money.
And Vitali started as he meant to continue. As high-class amateurs, the brothers were courted by all the major players on the US professional scene, Don King among them. In the documentary "Klitschko", released two years ago and nominated for a Sports Emmy award, there is a compelling sequence which reveals much about Klitschko's inner steel and stubbornness.
With a reputation cemented as one of the most successful promoters of all time, King invites Vitali and Wladimir to a meeting in plush surroundings and promises: "Today Kiev, tomorrow the world."
The self-styled "PT Barnum of boxing" then retires to a piano and serenades his potential recruits with a seemingly flawless, seductive rendition of Don Giovanni's Overture.
Vitali is left to marvel at the multi-talented impresario's ability to tinkle the ivories. Not just a promoter, he thinks, but an artist too... until curiosity kills the moment.
"I walked around the side and it was all a fake. The piano was playing itself. I could see the pedals moving without him touching it," Klitschko recalls.
"We decided to turn him down."
He relates the story with comic panache but the yarn offers a telling insight. So many boxers behave like lions in the ring and yet turn into sheep across a negotiating table. Vitali knew what he wanted - and just as importantly, what he didn't.
That street-wise nature was hewn on a journey around various Soviet republics as the family moved to wherever his father Vladimir's work in the military demanded. Emotional upheaval became routine as friends were made and lost in quick succession.
The family unit was close-knit and the discipline engendered all those years ago has underpinned the brothers' success in and outside the ring, according to Bonte.
"It comes from their parents," he says. "Their father taught them how to behave and their mother was a schoolteacher, so they had a fantastic education and that's why they are the way they are."
Vitali's devotion to discipline came under severe pressure two years ago when he was slapped in the face by Britain's Dereck Chisora at the weigh-in ahead of their fight in Munich. Somehow suppressing any desire to explode in retaliation, Vitali chose not to respond.
Given the nervous energy enveloping such occasions, it was a remarkable display of restraint which says much about his character. It is difficult to bring to mind a single professional boxer who would have resisted the urge to fire back.
In the "Klitschko" film, the difference between the brothers is articulated by Wladimir. "Fighting is in Vitali's blood," says the younger sibling. "He was born a fighter. I became one."
Just as the sceptics question Vitali's qualifications for the road ahead, so there were coaches who wondered whether he would ever make the grade as a boxer. He was described by one of his first trainers as "completely uncoordinated" but compensated for his deficiencies by committing totally to the cause. Fifteen wins in 17 world title fights are a testament to his unquenchable desire.
"His great strength is that he doesn't give up," says Sebastian Dehnhardt, the director of the acclaimed documentary. "That's what he's learned from boxing and I'm sure he'll do it in politics."