Magnanimous Ricky Burns vows to return following loss of WBO title

By Keir Murray
BBC Sport Scotland
Last updated on .From the section Boxing4
Prior to Saturday night's defeat by Terence Crawford, perhaps fewer than 50 of the 10,000 fans inside Glasgow's SECC would ever have seen Ricky Burns lose a fight.
It would have been a hard-core group of followers who would have witnessed his last loss, to Carl Johanneson in a British super-featherweight title contest in Leeds in 2007.
In the seven years since, Burns, from Coatbridge near Glasgow, has won 21 bouts and drawn one - the fight against Raymundo Beltran last September where he fought for almost the whole contest with a broken jaw and was lucky to emerge with a draw.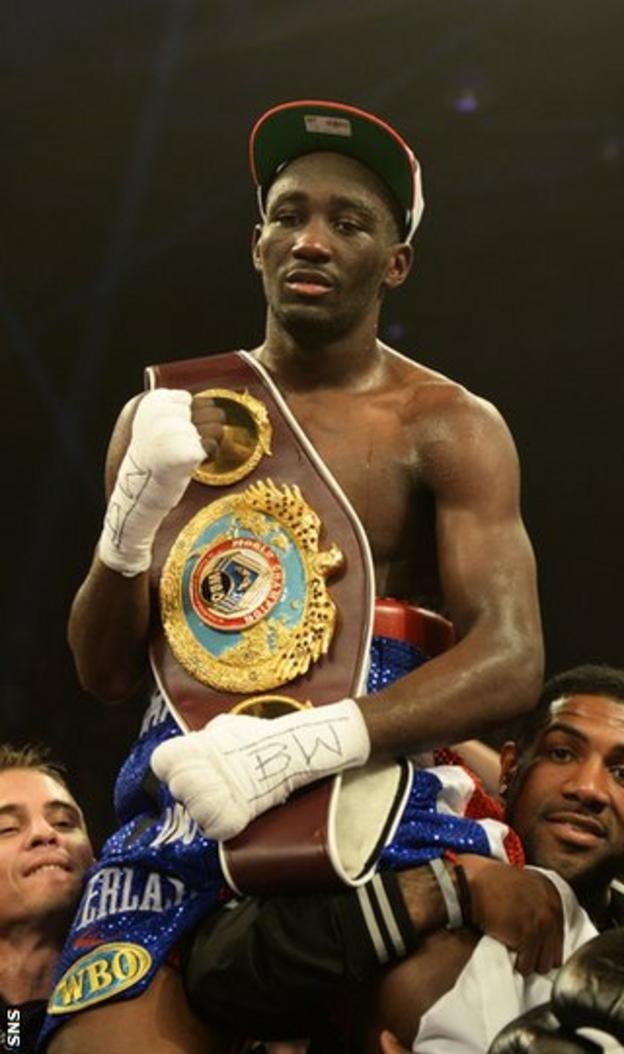 In that run of wins he has clinched the WBO world super-featherweight title and that organisation's world lightweight title. He made four successful defences of the latter.
His affable nature, his honesty and his fearlessness in the ring have earned the 30-year-old, deservedly, a huge following in the west of Scotland and beyond.
Burns's fights are what promoters describe excitedly as 'box office' occasions and the SECC was packed to capacity for his bout against Crawford, with the home fighter the underdog against the unbeaten 26-year-old challenger from Omaha, Nebraska.
As the crowd awaited the judges' decision, they knew their man had lost. He had taken Crawford to 12 rounds for the first time in his career but had come off second best against a wily, skilful and courageous opponent.
The title was leaving Scotland.
It is hard to quell the feeling that it's the end of an era, that his wins against the likes of Paulus Moses and Kevin Mitchell were career high points.
In his bout against Jose Gonzalez last May, when the Puerto Rican stayed on his stool after the ninth round, Burns had been unhappy with his performance.
His subsequent draw with Beltran and the loss of his title suggest his talent is fading, though he may still be good enough to win another title.
Burns, sporting the new pink, yellow and white Scotland away strip in his post-fight media conference, is adamant there's more to come.
"The better man won on the night," he said.
"But I will be back. This is just a setback. My hunger to box is the same. Whether I am world champion or not, my attitude doesn't change at all."
Burns said his jaw, which now contains a titanium plate, had been "fine" throughout the bout. He landed some good shots on Crawford but at no point did the American look troubled.
Rather, with his ability to switch from orthodox to southpaw and his wonderful reflexes, it was Crawford who was often the first to connect in the exchanges.
"I felt as if I was letting him steal some of the rounds," Burns continued.
"[Trainer] Billy [Nelson] was telling me to get my second phase of punches off, to get my third and fourth shots in.
"But when I was going to throw he was moving out of range.
"He was looking for counters all night. When his movement is so good, it's hard to fight against it.
"I was trying to counter-punch a counter-puncher. I was trying to draw the leads out of him but he wasn't having it.
"I felt I was forcing it and that's when I was getting caught with stupid punches."
Certainly, Burns looked far from being washed up. He joked with reporters that they were stuck with him for another 10 years. His defeat had far more to do with Crawford's talent than a diminution in his own ability.
He said he wouldn't be moving up a weight division and that he'd "love to get a rematch, even in America", but his promoter Eddie Hearn acknowledged the fighter would need to raise his game significantly to avenge the defeat.
Burns described the domestic lightweight division as "buzzing", though Hearn would only countenance a British fight if it guaranteed a world title shot.
"If we don't get a rematch I'd like to go after one of the other world titles. They are winnable fights and they are not going to be as tricky as that guy," added Burns, referring to Miguel Vazquez, Richar Abril and Omar Figueroa, holders of the IBF, WBA and WBC belts, respectively.
Crawford said Burns was "real tough".

"I hit him with some hard shots and he took it well," he said.
"I wasn't going looking for his jaw because I knew if his jaw wasn't healed he wouldn't be fighting.
"The game plan was to go to the body because we knew he liked to keep his hands up."
As for a rematch on either side of the Atlantic, the new world champion said: "Whatever. I like Scotland, kind of. We'll see how you all like Omaha."
Burns's fans will hope another big name can be enticed to Glasgow with a title at stake.
If not, they'll have to be content with the memories of many thrilling evenings watching their man in action and with having seen a world-class fighter like Crawford unseat their hero.