Ricky Burns should take 'break' from boxing, says Alex Arthur
Last updated on .From the section Boxing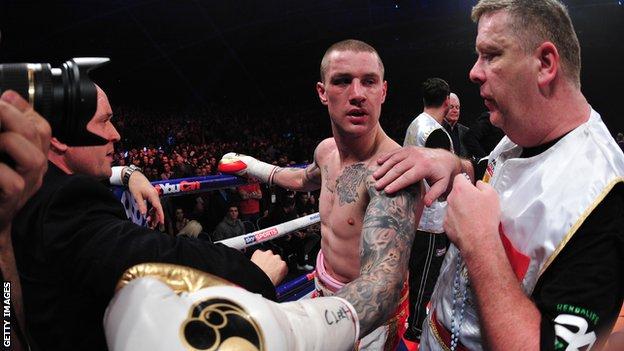 Ricky Burns should take a "lengthy break away" from boxing following his WBO world lightweight title defeat, according to Alex Arthur.
Arthur, a former super featherweight champion, believes Burns should also reconsider his training schedule.
Burns suffered his first defeat in seven years as he lost his title to Terence Crawford on Saturday.
"Part of the reason he was flat and lacklustre was because he spends too much time in the gym," said Arthur.
Burns, 30, lost on a unanimous points decision in front of his home crowd at Glasgow's SECC in his fifth title defence.
The Coatbridge boxer has not fought since breaking his jaw in a draw with Raymundo Beltran in September.
And he was in confident mood ahead of facing the American, who was unbeaten in 22 bouts heading into the title fight in Glasgow.
But Arthur said the Scot failed to get into any kind of rhythm, allowing Crawford to "dictate the tempo and the pace of the fight".
Regarding Burns's next move in boxing, Arthur said: "It's a matter of him sitting down with his family and having a good think about his future.
"It seemed to me that, after the fight on Saturday night, emotions can often run high and he said he was looking forward to getting back into the gym.
"He has to have a lengthy break away, because I think part of the reason he was flat and lacklustre on Saturday was because he spends too much time in the gym, boxing and training.
"Ricky really loves the life and trains very hard. I think Scottish fighters are famous for training maybe a little bit too hard and not having enough rest.
"I think he needs a really good rest and some time away to reflect on everything that happened.
"In the long run, I think Ricky will fight again because boxing is in his blood and he loves boxing.
"But where he goes from here is another matter. He expected a really tough fight, but I don't think he quite grasped the fact that the fight was going to be so one-sided.
"He landed very few punches, but Crawford just stole it for me; I don't mean in terms of how close the fight was, he stole it from Ricky with the way he fought."