Carl Froch v George Groves II: 'Madness everywhere you looked'
Last updated on .From the section Boxing
The road to war is wide and attended by fanfare and flag-waving on all sides. But it is a narrow, dark and frightening path back home.
Carl Froch and George Groves know this better than most, having fought each other to a virtual standstill in Manchester last November. Never mind paths back home, the ring on that particular night was a stage without exits.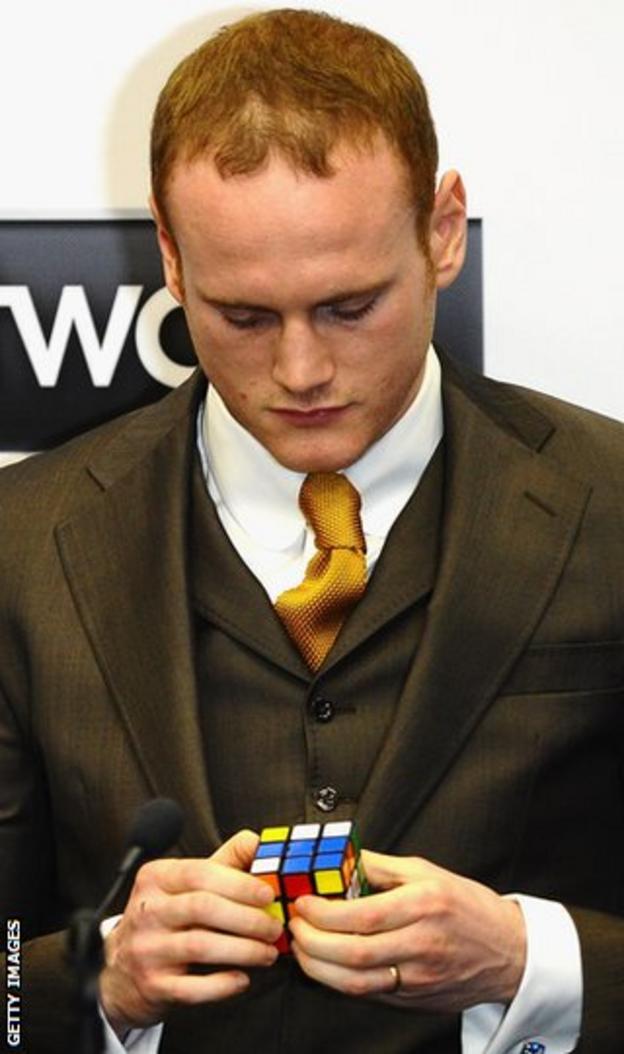 Certainly for Groves, who lost that first meeting via a controversial ninth-round stoppage. And arguably for Froch, who afterwards found himself under heavy shelling from fans who felt frustrated and cheated by the outcome.
But here we go again, except with a wider road and more fanfare and flag-waving than before. Proof that, as far as boxing goes, savagery never put anybody off: build it bigger and better and hope it is even more savage than before. All part of boxing's madness, and why it will never die out.
"When you get it right, boxing can be one of the biggest sports out there," said promoter Eddie Hearn, who saw to it that the rematch will take place in front of a predicted 80,000 fans inside Wembley Stadium on 31 May.
"They totally hate each other, there's no question about that at all. But it's probably best they don't like each other, because they're going to have a fight."
Hatred is not the only way to sell a fight, but it certainly helps. As does a bit of that madness that boxing specialises in. At the first head-to-head news conference on Monday, there was madness everywhere you looked.
First, there was the sight of Groves producing a Rubik's Cube and completing it in the time it took for Froch to finish his opening spiel.
Later, Groves denied thinking he was cleverer than Froch, saying: "I barely made it through school." But he certainly likes to create the impression he has an intellectual edge, whether by ostentatiously solving combination puzzles or accusing his rival of "droning on" and constantly contradicting himself.
Then there was the sight of Groves being challenged by Froch's brother. On Twitter, Lee Froch bills himself as a building contractor. But he seems to be labouring under the misapprehension that spending lots of time in the company of a world champion boxer can make you equally as hard, as if by osmosis.
He is not the first member of a boxer's entourage - and he will not be the last - to succumb to such a delusion. But judging by the reaction of boxing fans on social media, his uncouth behaviour does his brother no favours.
Then there was the sight of Carl Froch shoving Groves during the on-pitch stare-down. Minutes earlier, Froch told me: "I'm too long in the tooth to pay attention to his childish games." It was a peculiar way of showing it.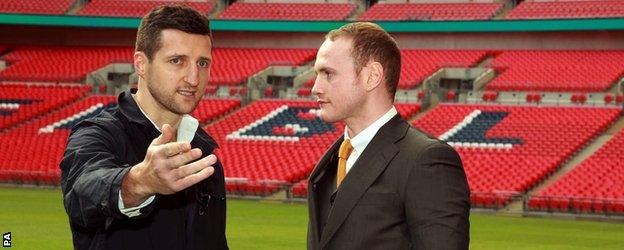 In fairness, before the shoving incident Froch looked far more collected than during the build-up to their first fight. "Last time, I let him get under my skin a little bit and it affected me in a negative way," said Froch. "But this time George Groves is in trouble because I'm in the right place mentally."
Froch's new-found composure was seized upon by Groves as evidence his rival had lost it. "He's come in with a game-plan, to be as calm as possible," said Groves. "He's given it to me already, he can't hold it together." Having been shoved, Groves drew the same conclusion. At least he was consistent.
Whether this mental sparring has any bearing on the outcome of their rematch will probably never be known, even after the result is in. What is known is that battles are usually won by the side with superior weapons and defences, rather than by psychological warfare, whatever a boxer would like you to believe.
But consciously or subconsciously, all this pre-fight madness does offset the inevitable savagery to come. It acts as a diversion, allows at least some fans to pretend it is pantomime when it is actually something more dark and serious.
When it was put to Froch and Groves that perhaps the rematch would be less savage than last time, because they had tasted each other's wrath and would therefore be more cautious, neither of them seemed convinced.
"Carl can't make adjustments from fight to fight, or even during fights," said 25-year-old Groves, who will be fighting in his home city.
"His attributes are starting to deteriorate. All he's left with now is a good chin and determination. This is a three-round fight. I know I can land punches at will on Carl and hurt him. For Carl, it will be a torrid time."
Froch, 36, who admitted he would have preferred to fight on home turf in Nottingham, countered: "Maybe I am too long in the tooth to change what I am. Regardless of how you've trained for 12 weeks, when you get hit on the chin you switch on to fight mode and do what you instinctively do.
"For me, it's shoot from the hip, throw the left hook, try and land the big right hand, push forward, swallow a few stupid shots, and get the job done. It might just be a conclusive finish early on or it might go the distance."
Soon the road will begin to narrow and eventually it will be just the two of them, trading blows in the centre circle at Wembley Stadium. Oblivious to the fanfare and the flag-waving. Only searching for the path back home.