Stuart Hall: IBF Bantamweight champion enjoying reign
Last updated on .From the section Boxing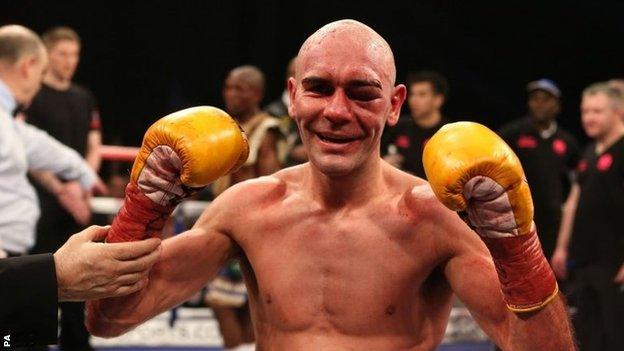 Darlington boxer Stuart Hall feels he is "a different person" since winning the IBF world bantamweight title.
The 34-year-old in December, and will now on 29 March.
It was only in 2008 that Hall swapped his wild party lifestyle in Ibiza for the professional boxing ring. Just 19 fights later he was world champion.
"I've done a lot of mad things in my life and I feel I'm changing since becoming champion," he told BBC Tees.
"It's a change in lifestyle. Like the way I eat now, a few years ago I'd be eating a lot of bad things, but since December I've got a nutritionist and I enjoy trying to eat healthily.
"Who'd have thought a few years ago that I'd be getting invited to talk to young people as a role model? It's humbling to be honest."
By defeating Malinga, Hall became the oldest British fighter to win a world title at the first attempt.
It sealed a remarkable turnaround after losses to and in the space of 10 months had seemingly ended his hopes of becoming a world champion.
Hall required more than a dozens stitches on a damaged eye socket after December's title win over Malinga, an injury that forced him to fight one-eyed for several rounds.
"The Malinga fight is all a bit of a blur," Hall explained. "I just remember being shocked that I'd knocked him down early on.
"The next thing I was having my arm lifted at the end to say I'd won. Between those it is blank."
Prior to agreeing a defence against Durham boxer Ward, Hall rarely fought in quick succession, often taking six to 12 months between bouts.
In February, he said that it was after claiming the IBF crown.
"I'm thriving off that win, and by having only three months between fights, I've still got all that fitness," said Hall.
"I feel so full of energy. Not turning professional until I was 28 means I love just living boxing now."