Lewis Benson desperate to seal Commonwealth Games place

By Keir Murray
BBC Sport Scotland
Last updated on .From the section Boxing
Lewis Benson points to the three stars on his Lochend Boxing Club vest. Each represents a national title - two Scottish, one British - two of them won in the past year, and all at 64kg.
Since those victories, the 22-year-old from Edinburgh has moved up from light-welterweight to operate at 69kg. He wears it well.
On Saturday, he fights Hayfield's Stuart Burt in the semi-finals of the Scottish Championships at Scotstoun Leisure Centre in Glasgow.
The winner will progress to the finals at the Emirates Arena on Friday, 28 March. The stakes could scarcely be higher - the holder of the national title will strengthen significantly his case for representing his country at the Commonwealth Games this summer.
Burt represents a considerable hurdle but, even if Benson prevails, he will have to beat the winner of the bout between Connor Law and Boris Crighton if he is to add a fourth star to his white club vest.
Law, his good friend from Glenrothes, is the reigning champion and is every bit as determined to represent his country at the home Games.
Benson is still feeling his way at his new weight. Not only does it seem a more natural fit but he and his coaches reckoned maintaining the lighter weight across a two-week spell for the Games would have left the boxer ill-prepared.
He fought in Russia at 69kg last year, then at the World Championships in Almaty, Kazakhstan - where he lost in the first round to the hugely experienced Bahamian, Carl Hield, who won Commonwealth bronze in Delhi four years ago.
"He was stronger than me; he wasn't any better than me," asserts Benson. "If I can put on a few kilos of muscle - I've put one or two on already - and get myself bigger, no boy is going to push me back like that.
"I know the boys at 69kg will be a lot bigger and stronger than me, but I've been working on my strength and conditioning at the Institute of Sport and I've become a lot stronger.
"I'm faster than most 69kg boxers and my foot movement is really good. Hield will be at the Commonwealth Games this year. Hopefully, I'm there too and I can get revenge on him."
It's hard not to warm to Benson. A grin is never far from his face. If he wasn't hammering his fists into their face and body, his opponents might refuse to try to spoil his good looks. Yet he was not always so loveable. By his own admission, he got into too many scrapes as a youngster.
He explains: "I was in a bit of trouble when I was at school and all I wanted to do was start boxing.
"My mum said to me, 'if you stop mucking about in the streets and start behaving at school, I'll let you go'. Ever since then, I got my head down. I started boxing when I was 13."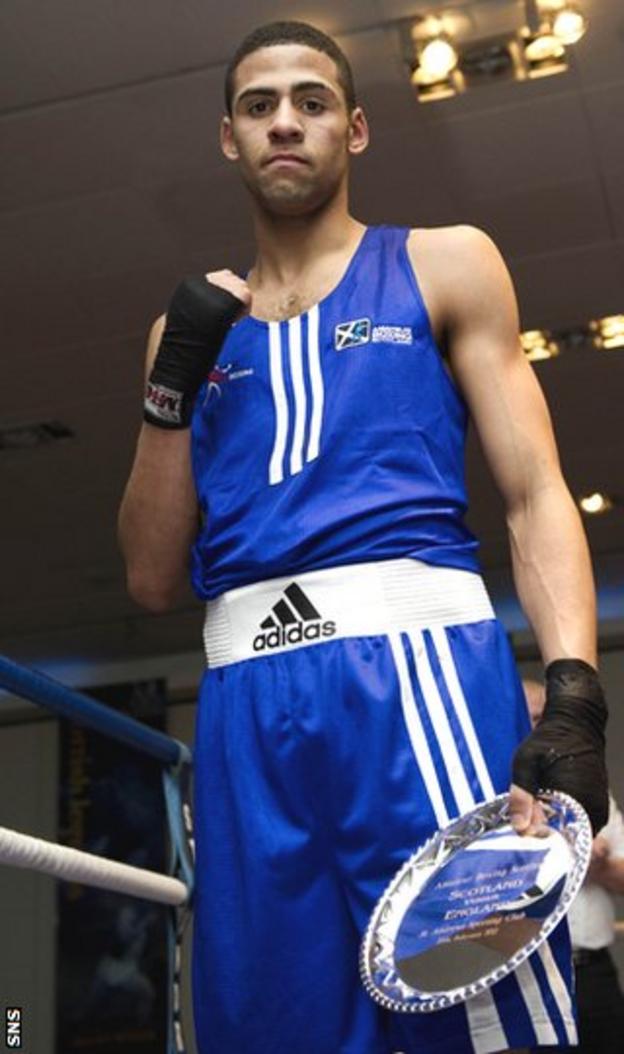 Benson left school at 16 and qualified as an electrician. "They've been great with me," he says of his employers.
"They've given me this time off to focus on my dream and, if it doesn't work out, I always have my trade card and I can always go back to that."
His family are in full support of his drive to get to the top, which is just as well while he takes a break from paid employment and tries to find willing sponsors.
Benson beat Robbie Davies Jr - "a high-calibre boy" who has won his first four professional fights - to win the British title at 64kg.
He is an established member of the Scotland squad under team manager Mike Keane, travelling to tournaments and participating in training camps at home and abroad.
"Boxing has given me discipline," he says. "I've travelled the world with it. Canada, America, Russia, Poland, Croatia, I've been everywhere. This is what Scotland has done for me.
"I'm in the squad for the Commonwealth Games. I hope to cement my place in the team at the Scottish Championships. If not, I'm hoping to go to all these tournaments and see what's there for me after that."
The new scoring system in amateur boxing is such that the more aggressive fighter tends to win the judges' approval. Benson takes a different view.
"At first, they said the scoring wouldn't suit my style because I'm a counter puncher and quite flashy," he says.
"After watching the World Championships, I've taken so much experience from the Cubans and I've been practising what they do, with their relaxed style and counter punching. The Cubans are the best boxers I've ever seen in my life."
But the low hands must surely drive coach Terry McCormack crazy? "He's adapted to to it because I'm quite good at it," is the confident reply.
Benson is one of five Lochend boxers hoping to clinch a place in the Scotland team. Evidently, McCormack is doing something right.
"Lochend gym is booming," says Benson. "We have two great pros - Paul Appleby and John Thain. They are like the role models. Then, on the amateur side, we've got myself, Josh Taylor, Aston Brown, Stephen Tiffany and Tommy Philbin.
"Lochend are going to make a serious statement this year."
The club has fighters in six of the eight men's national semi-final weight categories on Saturday. It seems Benson et al are making their point already in 2014.