Amir Khan open to Floyd Mayweather undercard challenge
Last updated on .From the section Boxing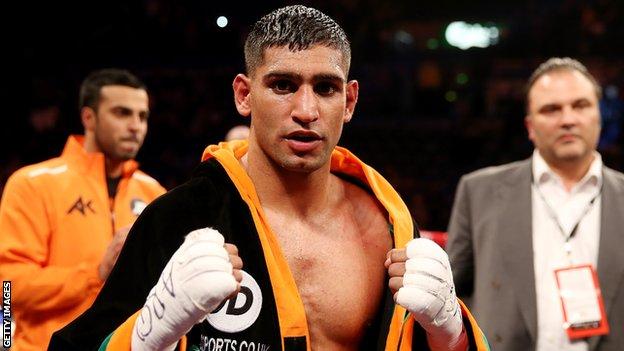 Former world champion Amir Khan says he is ready to be on Floyd Mayweather's undercard in Las Vegas, but is unsure about his potential opponent.
Mayweather, considered the world's best pound-for-pound boxer, fights 30-year-old Argentine Marcos Maidana in May.
Briton Khan, 27, thought he was in line to fight the WBC welterweight champion, only for Mayweather to choose Maidana.
"I think it might be a good idea to fight on his undercard as chief support," Khan told BBC Radio 5 Live.
"Being in front of his face is kind of good because Floyd will always see me, plus he knows that he should have been fighting me instead of Maidana."
After winning a fans' poll to decide Mayweather's next opponent, Khan signed a deal in December that he hoped would lead to a showdown with the 10-time world champion, who holds world titles at welterweight and light-middleweight.
However, Mayweather opted to take on Maidana, who Khan beat unanimously on points in 2010.
Mayweather then told Khan he would agree to a fight if he defeated 24-year-old American Adrien Broner on the undercard of his Maidana bout - but Khan says Broner has rejected the match-up.
Although it remains unclear who Khan's opponent at the MGM Arena would be, the 2004 Olympic silver medallist is confident ahead of what would be a first fight since his victory over Julio Diaz in April 2013 - and a bout with Mayweather remains the long-term ambition.
"We put the fight to Broner - they don't want it - so what do we do? Boxing's a funny business.
"It's not been confirmed fully just yet who we're going to fight.
"Floyd Mayweather is probably the best fighter in our era but as he's getting older I think he's trying to avoid the guys who have hand speed and are quick and explosive. Maidana, I've already beaten him.
"I'm still young, hungry and whoever it is on 3 May - which I think will be fight day for me - will be in lot of trouble because I've been out of the ring for such a long time."