Dereck Chisora and Tyson Fury in world title eliminator
Last updated on .From the section Boxing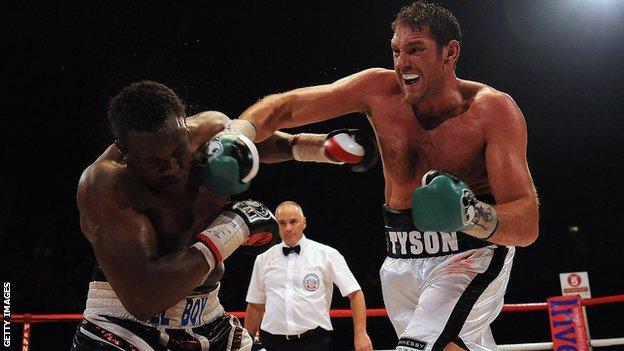 Dereck Chisora is to face Tyson Fury in a world title eliminator on 26 July.
The fight will take place in Manchester with the winner going on to challenge IBF, WBA and WBO heavyweight champion Wladimir Klitschko.
Fury beat Chisora on points the last time they met, in 2011, and the bad blood between the pair since then has shown little sign of abating.
"It will be good to make mincemeat of Chisora in front of my own people in Manchester," said Fury.
Chisora's European heavyweight title will be at stake, as well as the vacant British title, after Bulgarian Kubrat Pulev pulled out of purse bids.
Promoter Frank Warren said: "Chisora and Fury is the biggest all-British heavyweight fight in recent years."
Speaking at a news conference to announce the fight, which will take place at the Manchester Arena, Fury, 25, added: "Chisora is what he looks like - a mug.
"I've got more heart in my little finger than there is in the bodies of 10 Dereck Chisoras. He's just cannon fodder and a high-level journeyman.
"Dereck was beaten fair and square by a 22-year-old. Now I'm 25, a lot more experienced and with a lot better record.
"The Chisora I faced the first time was a much better opponent than he is now.
"His resistance has been worn down and there's mileage on the clock. If you have a car with 120,000 miles you're asking for it to blow up when you keep driving it down the motorway."
However, Chisora has promised fellow Englishman Fury he will be facing a different opponent to the flabby and unfit British and Commonwealth champion who was relieved of his belts in 2011.
"A villain recognises another villain when he sees one," Chisora said.
"I've achieved so much since he beat me, while he hasn't progressed at all. He's four steps behind me now.
"I know he'll be mentally ready, but I have much more power than him. I'm looking for the knockout.
"On my bad day he couldn't knock me out, so imagine what will happen when I'm fit. I wasn't fit and he couldn't knock me out."