Scottish champions stake claims for Commonwealth boxing places

By Keir Murray
BBC Sport Scotland
Last updated on .From the section Boxing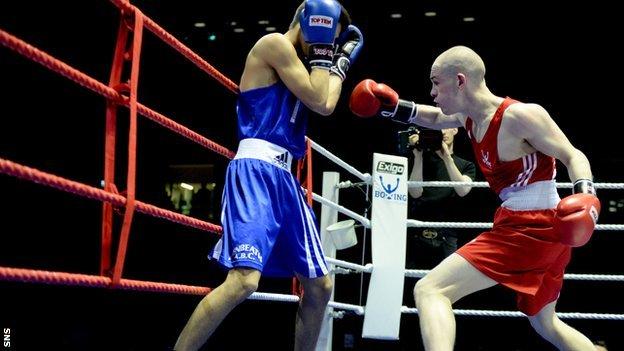 Glasgow's Joe Ham was among the Boxing Scotland National Championship winners at the Emirates Arena on Friday night.
The Gorbals fighter dropped Denbeath's Brandon Singh with a left hook to the head before a crunching left to the body ended their bantamweight bout.
Lochend light-welterweight Josh Taylor edged a split decision against Greenock's Sam Ball and Lewis Benson ended Connor Law's welterweight reign.
Swedish student Hanna Carlsson won the female light-welterweight title.
In only her 12th bout, the Fife-based boxer won an entertaining final against Newarthill's Paula Docherty.
"My mum came from Sweden to watch me," she told BBC Scotland.
"It's been my dream since I started boxing to win this competition so it's amazing. It's huge for me.
"I feel like a Scottish boxer, I've always boxed here. I feel like a Glenrothes boxer."
Farah Jamill won the female featherweight title with victory over Doonhamers' Sinead Price Green, while Heriot Watt's Gardner Moore beat Gemma Brodie of Renfrewshire at middleweight.
Springhill's Lynn Calder beat Lochend's Katie Atkin in an excellent lightweight bout that could have been scored in either boxer's favour.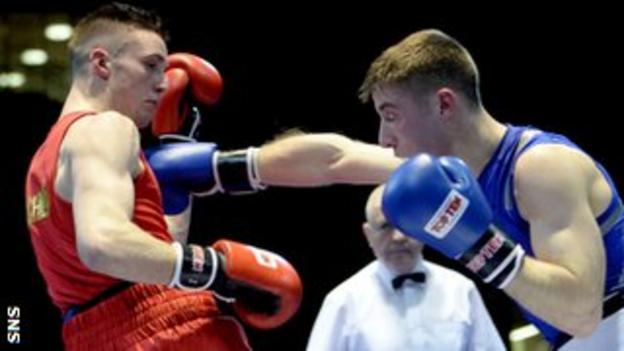 While that female quartet have become Scottish champions, for the male fighters there was the added incentive of Commonwealth Games inclusion.
The winners greatly strengthen their claim to make the final selection for Glasgow 2014.
For Ham, backed loudly by supporters in the 2,000-plus crowd, it was a fifth consecutive Scottish title.
His dominant performance was too much for Singh, who recovered bravely from the first knockdown but was left gasping by a punch to his ribs minutes later and was counted out on his feet.
"It's amazing! I sold a lot of tickets and I'm boxing in my home city," said a jubilant Ham.
"What a way to finish that off!
"I'll be doing that and more in Glasgow [2014] and I'll be getting a medal for my home city and all my fans.
"I want gold. I've trained hard enough for it."
Edinburgh's Benson won an at-times scrappy encounter with Law, whose body language suggested he thought he had done enough to retain his title.
Benson described the thrill of winning as "absolutely unbelievable".
Last year he won the Scottish and British titles at the weight division below and, having won the Scottish light-welterweight crown the year before too, decided to move up to welterweight to challenge shipyard worker Law.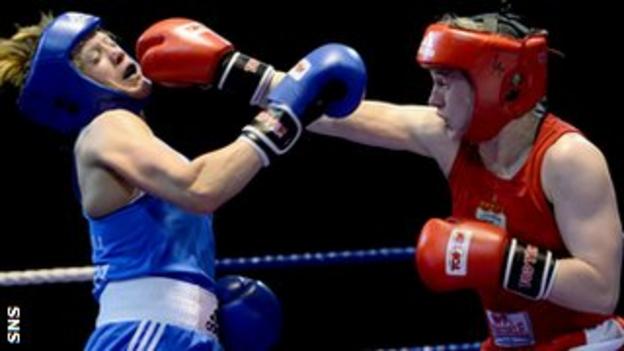 "Connor's a great pal of mine but today we have not spoken one word," said Benson after the bout.
"He was staring me out in the ring beforehand!
"I knew I had the first two rounds. In the third round I was coasting a bit. I just wanted to make sure I didn't get hit with any massive shots. I knew I'd beaten him.
"This is basically my Glasgow 2014 place sealed. I've just beaten the current Scottish champion and I beat the former Scottish champion in my last fight."
Benson admitted that his family had bought tickets for the Commonwealth Games boxing, hoping he would be there to represent his country.
He added: "They believed in me. I'm not going there to make up the numbers. I'm there to win it."
One of the best fights of the night was the frenetic flyweight bout won by Forgewood's Reece McFadden over Ryan McCutcheon from Meadowbank.
Charlie Flynn (Glasgow Phoenix) beat Mark McKeown (Keir Hardie Amateur Boxing Club) to win the lightweight award, their closely contested bout preceded by Springhill's Kieran Smith's win over Lochend middleweight Aston Brown.
Smith's club mate, the light heavyweight Scott Forrest, produced an impressive performance to defeat Port Glasgow's Grant Quigley, whose measured walk to the ring was in contrast to the high-energy entrances of the others.
Hayfield Boxing Club's Steven Lavelle overpowered the challenge posed by East Lothian's Gary Fairgrieve to win the heavyweight title, and in the super-heavyweight class Ross Henderson outscored John Winters of Kincorth.
Boxing Scotland chairman Richard Thomas called the event "the biggest championship ever in our biggest sporting year".
"The atmosphere is befitting of the boxers," he said.