Carl Froch v George Groves: 12 ways to hype a fight
Last updated on .From the section Boxing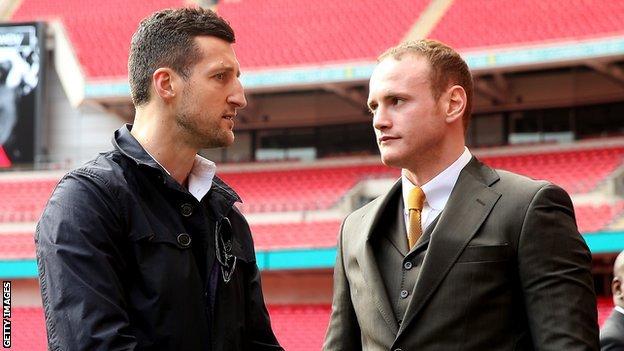 Traditionalists will tell you boxing was more staid in the old days. But between bareknuckle rivals posting challenges on the walls of 19th Century taverns and the press conference punch-ups of the present day, hype has never been out of fashion.
What is true is that in this era of pay-per-view television, in which punters sitting on their sofas are every bit as important as backsides on seats at the venue, hype is more crucial than ever.
Carl Froch and George Groves have two more chances to bump up interest for their rematch at Wembley Stadium on Saturday - Thursday's final news conference and Friday's weigh-in. Stand by for nonsense.
BBC Sport wades into the murky history of fight hype and makes the following plea: if anyone finds boxing's moral compass between now and Froch-Groves II, please let us know where it is.
1. Be Shakespeare
John L Sullivan, boxing's first gloved world heavyweight champion, liked to boast that he could "lick any man in the house". But it was Muhammad Ali who transformed boxing baiting into an art form.
Ali dubbed Sonny Liston the "Big Ugly Bear", Floyd Patterson "The Rabbit", George Chuvalo "The Washerwoman" and George Foreman "The Mummy". But it was Ali's poetry and one-liners that really got the tills ringing.
Before his first bout with Liston in 1964, when Ali won the world heavyweight crown for the first time, the challenger quipped: "I bet you scare yourself to death just starin' in the mirror." Before his first bout with Patterson, Ali said: "I'll beat him so bad he'll need a shoehorn to put his hat on."
Ahead of his third bout with Joe Frazier, Ali started experimenting with rapping: "It will be a killa and a chilla and a thrilla when I get the gorilla in Manilla." So it was, and millions tuned in.
Ali was the greatest PR man ever, but American promoter Don King is the master of hyperbole. "This is a grudge fight that goes beyond the realms of reality," was how King described the rematch between Nigel Benn and Chris Eubank in 1993. "It is an atomic bomb waiting to explode."
2. Be shocking
While Ali and King used poetry, purple prose and wit to promote their fights, David Haye's pre-fight jousting was usually less refined.
In 2009, before a proposed fight against Wladimir Klitschko that later fell through, Haye wore a T-shirt depicting him holding the severed heads of Wladimir and his older brother Vitali. Before his heavyweight world title defence against Audley Harrison in 2010, the excitable Haye said the contest would be "as one-sided as a gang rape".
Sir Henry Cooper called his compatriot's behaviour "bad for the reputation of our sport". Haye was unrepentant: "The more controversial you are, the more column inches you get. Because of this smack talk, we broke box office records." So they did, and so it goes in boxing.
That Haye didn't carry much genuine menace was down to the fact the Englishman's tongue was usually in his cheek. Unlike Mike Tyson, whose tongue gave the impression of being forked.
3. Be scary
Tyson recently claimed he was insane for most of his boxing career, which wasn't exactly a revelation to anyone who witnessed it.
Even before he became heavyweight world champion in 1986, the future "Baddest Man On The Planet" was saying things like this: "I try to punch them right on the tip of the nose, to push the bone into the brain."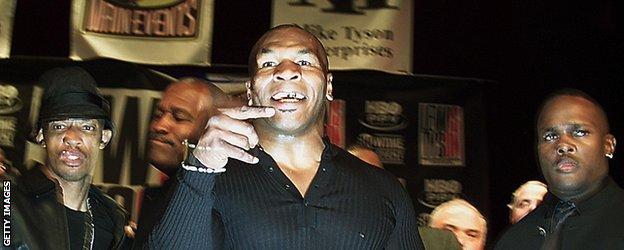 Prior to defending his crown against Tony Tubbs in 1988, Tyson said this: "I want to break his will. I want to take his manhood. I want to rip out his heart and show it to him." Wisely, Tubbs folded in two rounds.
Modern society being so civilised, the public loved it. Even when Tyson, sounding like a fairytale ogre, told Lennox Lewis he wanted to "eat his children". Before they fought in 2002, Tyson bit Lewis's leg at a news conference. Tyson, the delicate flower, said he had felt "intimidated".
4. Be crazy
Weigh-ins are usually rather mundane affairs. The fighters stand on the scales, get off again, have their weights announced, return to their dressing rooms. There might be the odd word exchanged at the stare-down, there might be a spot of pushing and shoving. And then there was the weigh-in for Ali-Liston I.
Ali, then Cassius Clay, arrived at the weigh-in with a posse of mischief-makers in tow, including the great Sugar Ray Robinson, and proceeded to cause mayhem. The assembled journalists and officials concluded Ali was a man very close to the edge.
Ali's blood pressure was more than twice its normal level, causing one journalist to ask: "Does that mean he's frightened, Doc?" To which the doctor replied: "He's in mortal fear or he's emotional." He even threatened to call the fight off.
Ali being Ali, it had all been one big joke. He wasn't frightened, he was pretending to be mad to spice up an ailing promotion and spook his opponent. It worked - both men made a bomb and Liston surrendered his title in the sixth round.
5. Be racist or xenophobic
Boxing has a long and inglorious history of ethnic and nationalistic tension. In 1810, a former American slave called Tom Molineaux fought English champion Tom Cribb, engendering much fear among Englishmen of all ranks. "The national honour was at stake," wrote the great 19th-Century sportswriter Pierce Egan.
Cribb's fans resorted to cheating to make sure their man won, storming the ring in the 19th round and breaking one of Molineaux's fingers.
Almost a century later, Jack Johnson became the first black heavyweight champion of the world and so began the search for "The Great White Hope". But while we live in more enlightened times, that doesn't mean racism and xenophobia ever died out completely.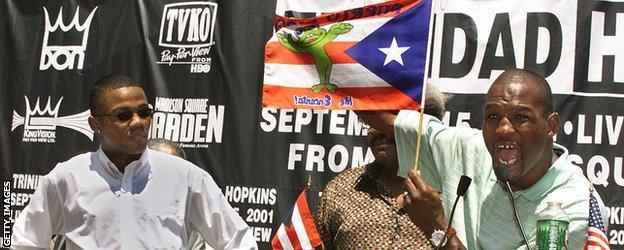 In 1980, Britain's Alan Minter said in the build-up to his fight against Marvin Hagler: "I am not letting a black man take the title from me." When Hagler relieved Minter of the world middleweight crown, a riot broke out at Wembley Arena and Hagler was pelted with bottles.
Bernard Hopkins sparked a mini-riot at a press conference to promote his 2001 fight with Felix Trinidad when he threw the Puerto Rican flag to the floor. In 2007, in an echo of Minter-Hagler, Hopkins said to Welsh legend Joe Calzaghe: "I would never let a white boy beat me." Calzaghe beat him a few months later.
6. Be beastly to your rival's partner
Pretty high up on boxing's scary scale was Panamanian devil Roberto Duran. During the build-up to his first fight against Sugar Ray Leonard, Duran made obscene gestures to his rival's wife. Leonard admits he was psychologically beaten before the actual contest, which Duran won via a 15-round decision.
Before beating fellow New Yorker Paulie Malignaggi last year, Adrien Broner boosted interest in the fight by claiming he had hooked up with his rival's ex-girlfriend.
But perhaps the king of this particular discipline is Nicaragua's Ricardo Mayorga, dubbed "The Maddest Man in Boxing". Which is a bit like being the maddest man in Bedlam.
At the news conference to announce his fight with American legend Oscar de la Hoya in 2006, Mayorga presented his opponent with a skirt and abused his wife. Don King said Mayorga represented "all of Nicaragua". Poor Nicaragua. For the record, De la Hoya stopped Mayorga in six rounds.
7. Be tweeting
There was a time when a boxer had to wait until he came face to face with an opponent or have a notepad stuck under his nose before he could start launching verbal bombs. But the advent of social media meant a boxer could suddenly engage in trash-talk from the comfort of his own living room, 24 hours a day, seven days a week.
A contender for the most mixed-up man on Twitter is Manchester heavyweight Tyson Fury, who has a habit of verbally assaulting fighters from the distant past and fighters from different weight classes.
Last year Fury was fined £3,000 when homophobic tweets about domestic rival David Price and light-heavyweight Tony Bellew appeared on his timeline. He was also investigated for making homophobic comments about Lennox Lewis and Wladimir Klitschko and for an ugly attack on David Haye, whom he was slated to fight.
Boxing being essentially a law unto itself - the Wild West of the sporting world - the internet is awash with boxers jangling their spurs. In 2010, American legend Floyd Mayweather launched a homophobic and racist attack on Philippine great Manny Pacquiao, made even more perverse by the fact he probably never intended to fight him.
8. Be weird
Chris Eubank arrived at the news conference to announce his rematch with Nigel Benn astride a Harley Davidson and decked out in jodhpurs, riding boots, a waistcoat (with no shirt) and Biggles-style goggles. That's eccentric, affected or not.
Before his fight against Germany's Graciano Rocchigiani in 1994, Eubank bought his long-suffering trainer Ronnie Davies an ankle-length black leather coat. "I can't wear this in Berlin," said the shaven-headed Davies, "it makes me look like Field Marshall Rommel." To which Eubank replied: "Prethithely, Davith…"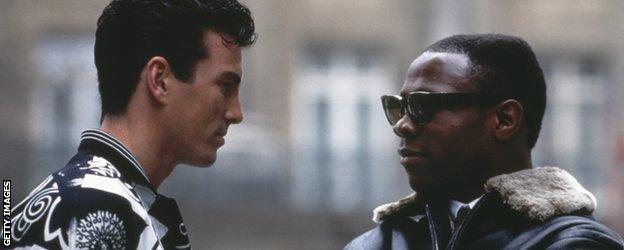 But perhaps even more eccentric than Eubank was Puerto Rican crackpot Hector Camacho, a man who variously entered the ring in a gladiator's outfit, an American Indian costume, a fox-fur robe and a dress.
Prior to his fight with Sugar Ray Leonard in 1997, Camacho left everyone gasping when he stripped down to nothing more than a broad smile for the live televised weigh-in, not even a towel to shield his manhood. That's one way to make sure the place is packed out on fight night.
9. Be annoying
Ali was deeply annoying to those boxing fans in the 1960s who liked their boxers to be humble and respectful and do their talking in the ring.
Attitudes hadn't changed that much by the time Eubank arrived on the scene in the late 1980s - and then came Naseem Hamed, perhaps the biggest pest boxing has ever seen and a man who made Eubank appear unassuming by comparison.
Hamed's hubris consumed him in the end but for a period in the late 1990s and early 2000s it made him one of the most marketable sportsmen in Britain. Like Eubank, Hamed understood the old adage that boxing was "show business with blood". Neither of them minded if people hated them, so long as they turned up or tuned in.
With Hamed, it wasn't so much what he said but how he said it. Anticipating his debut in the United States, Hamed boasted: "All I have to do to win is show up. I'm invincible." Hamed was knocked down three times on his way to a fourth-round knockout of Kevin Kelley and his aura of invincibility forever dimmed.
10. Be annoyed
Froch has admitted Groves got under his skin before their first meeting and he clearly hasn't warmed to his rival since then. But the dislike Froch has for Groves is nothing like the hatred Benn and Michael Watson had for Eubank in the 1990s. Even today, both men admit they detested him.
Promoter Barry Hearn says Benn was "a festering volcano" before his first meeting with Eubank in 1990. As such, the signing of the contract on live television made for essential viewing.
Watson felt similarly belittled by the insufferably superior Eubank. "People thought it was all part of the business," says Watson. "But it wasn't. He was scum, he had no respect." Eubank appeared to dislike Watson more than he disliked Benn, cranking up the spite before their rematch in 1991, in which Watson suffered life-threatening injuries.
11. Pretend to be annoyed
Anyone who had the misfortune to be in the same room when Haye and Dereck Chisora went wild in Munich in 2012 will tell you there was nothing fake about it. But the smiles and hugs that followed their meeting in the ring later that year revealed the supposed hatred had never been authentic.
Before Gary Stretch fought Eubank in 1991, he said he would "rather die than be beaten". Now, Stretch admits it was all just part of the game.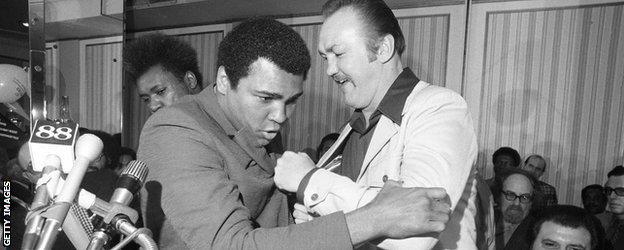 "I didn't know Eubank, how could I hate him?" says Stretch. "If the fighters are being honest, all they're thinking about is going home safely at the end of the night, with their record intact, hopefully having won the fight."
Ali was the all-time champion at feigning annoyance. Chuck Wepner claims that before their meeting in 1975, Ali tried to persuade his rival to racially abuse him in order to spark a fake melee.
Wepner refused but when the cameras began rolling, Ali claimed his rival had indeed abused him, leading to pushing and shoving and some much-needed publicity for the underwhelming contest to come.
12. Be nice
Amid all this mayhem and nastiness, it is easy to forget that many of Britain's most popular fighters down the years have been thoroughly decent chaps.
The popularity of Sir Henry Cooper and Frank Bruno was founded on their unyielding humility, while it is doubtful Barry McGuigan would have been such a unifying force in Northern Ireland had he been a horrible bloke.
Another bonus of being nice is that you become even more popular when pitted against a braggart, as with Cooper's first fight against Ali in 1963; or a devil, as with Bruno's two fights against Tyson.
"A boxing match is like a cowboy movie," explained Liston, one of the most vilified boxers in history. "There's got to be the good guys and the bad guys. And that's what people pay for - to see the bad guys get beat."