Floyd Mayweather says Marcos Maidana is 'no pushover'
Last updated on .From the section Boxing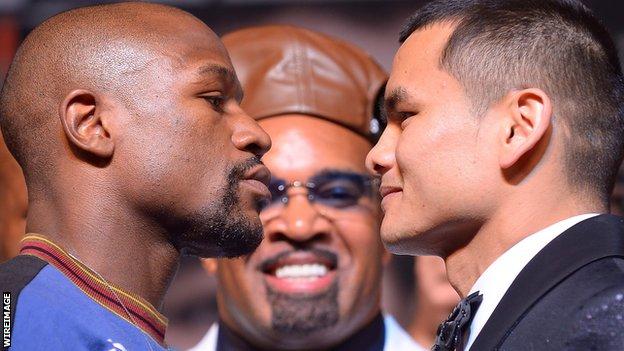 Unbeaten American Floyd Mayweather says he needs his "A game" to beat Argentina's Marcos Maidana on Saturday.
Mayweather is 11-1 favourite for the WBC/WBA welterweight title unification bout at the MGM Grand in Las Vegas.
"Everybody thinks he's just going to be a pushover, but I don't think so," Mayweather, 37, said.
"If he brings his best, maybe he will be the first guy that actually makes me dig in my bag of tricks and pull out my 'A' game.
"My whole career all I had to use was a 'D' and 'C' game to beat every guy."
Mayweather, who has 26 knockouts from 45 bouts across five divisions, is widely regarded as one of the best defensive fighters of all time.
Maidana, who won his most recent bout in December with a unanimous decision against the heavily-favoured American Adrien Broner to claim the WBA welterweight title, is known for his all-round skill and power.
But Mayweather added: "I may be the hardest puncher he ever fought. He hasn't been hit by me yet, so we'll just have to see if he's the hardest puncher."
Mayweather, who outboxed Saul Canelo Alvarez in his most recent bout in September to take the Mexican's WBA and WBC super welterweight titles, has repeatedly spoken about the need for patience against Maidana.
"Maidana is hungry, he's ready and he has a great knockout ratio," he said.
"It's all about keeping composure and sticking to the game plan.
"We're going to take our time, go out there and if a guy leaves an opening on his face, we're going to take it, if he leaves an opening on his body we're going to take it."
Maidana, 30, has an impressive professional record of 31 knockouts from 35 wins and just three defeats, but readily concedes he is the underdog.
"I know people think I'm going to lose, but I come to win and I'm not afraid of anybody or anything," he said.