Superb Amir Khan easily outpoints Luis Collazo in Las Vegas
Last updated on .From the section Boxing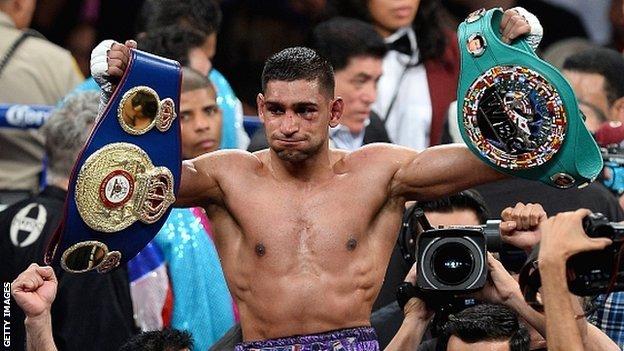 Britain's Amir Khan gave Luis Collazo a boxing lesson in Las Vegas, easily outpointing his American opponent in his first fight as a welterweight.
Khan was too fast and too disciplined for Collazo, flooring him in the fourth round and twice in the 10th.
The judges scored the fight 117-106, 119-104, 119-104 in Khan's favour.
The win puts Khan back on track for a dream fight with American legend Floyd Mayweather, who beat Marcos Maidana on the same card at the MGM Grand.
However, Khan is unlikely to fight Mayweather in September because it is too close to the end of the month-long Muslim fasting period of Ramadan.
"Styles make fights and I really believe I have the style to trouble Floyd Mayweather," said 27-year-old Khan.
"Collazo has been beaten before but they were close fights when he fought Shane Mosley and Andre Berto."
Khan also paid tribute to his American trainer Virgil Hunter, who has been in his corner for his last three fights.
"Virgil Hunter taught me some things and I put them together," said Khan, who now has 29 wins (19 KOs) and three defeats from 32 pro fights.
Khan had not fought for 13 months and his last outing was an unconvincing points victory over Julio Diaz in Sheffield last April.
Therefore Collazo, a career welterweight, a former world champion and coming off a second-round knockout of Victor Ortiz, was expected to give Khan a tough night.
But the 33-year-old southpaw, who narrowly lost to Manchester's Ricky Hatton in 2006, was never really in it and you could make an argument for Khan winning every round.
Khan nicked a watchful opening round courtesy of some brisk flurries and the Englishman landed with some hurtful right hands in the second as Collazo struggled to come to terms with his rival's hand speed.
Collazo continued to stalk Khan in the third but was unable to land with anything of note and the New Yorker found himself on the canvas at the beginning of the fourth, having been caught square and shipped a cute right hand on the inside.
Khan continued in the same vein in the fifth, staying at range, spinning out of trouble and peppering Collazo with slick combinations. And while Collazo had marginally more success in the sixth, it was another round for Khan.
If Collazo's plan was to let Khan blow himself out, it did not look like paying dividends as the fight entered its second half, with Khan easily winning the seventh.
Collazo's hopes were further dented by a points deduction for a low blow at the start of the eighth but he did land with a spiteful left cross that Khan clearly felt, before the Englishman was deducted a point for pushing down.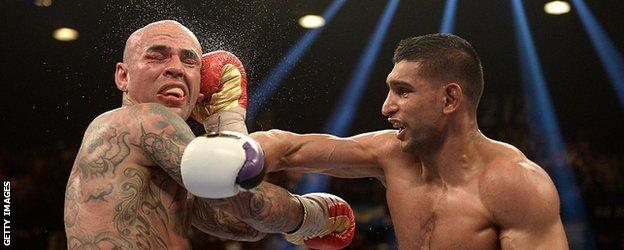 Having ascertained he had the power to hurt Khan, Collazo showed more urgency in the ninth, although Khan's work was still the more eye-catching.
Collazo was down twice in the 10th as Khan launched a couple of vicious attacks to the body and it looked like the American, who by now was cut around both eyes, was close to quitting.
But Collazo sucked it up and landed with a decent left in the 11th, although it was his only moment of success in the round.
With Collazo miles behind on the scorecards he required a knockout in the 12th and final round but only succeeded in flooring Khan with a blatant low blow.
However, Khan moved well around the ring and kept his shape to finish off a resounding victory.
The victory was particularly sweet for Khan, who had expected to fight Mayweather on the bill but was overlooked in favour of Maidana.
Former light-welterweight world champion Khan turned down a fight against then IBF welterweight champion Devon Alexander last year in order to concentrate on Mayweather, before being given the brush-off. But it now looks like his patience could pay off.
Mayweather has three fights left on his contract with American television network Showtime and Khan will be eyeing a shot at him next May.