Carl Froch v George Groves: Michael Buffer 'ready to rumble'
By Jimmy Smallwood
BBC Sport
Last updated on .From the section Boxing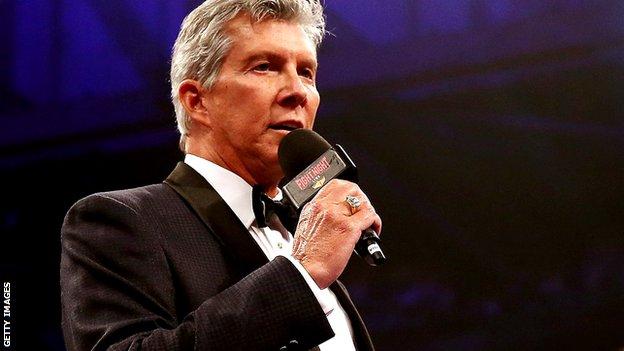 "Fah-la-la-la-la. Like that, you hear? La-la-la-la-la..."
The voice of boxing is singing down the telephone, warming up for war.
Michael Buffer, the man whose soaring, portentous introductions have graced some of the biggest bouts in boxing for more than a quarter of a century, will be doing his thing again on Saturday, trumpeting the arrival in the ring of Carl Froch and George Groves at Wembley Stadium.
If those in the crowd can tear their eyes away from the two fighters, they will see the silver haired master of ceremonies in the ring's centre. And they will notice him performing his regular routine.
Little vocal warm-ups, practised exclamations, supplemented by lemon tea supped in his hotel room beforehand. All in aid of delivering that globally-recognised phrase that sets the pulse racing and launches the main event on fight night.
"For the thousands in attendance and the millions watching around the world… L-l-l-l-let's get ready to rumbl-l-l-l-le!"
Buffer, 69, has introduced most of the greatest fighters of the modern era - from Roberto Duran to Floyd Mayweather, via Larry Holmes, George Foreman and Mike Tyson. Sugar Ray Leonard once said of Buffer: "When he introduces a fighter, it makes him want to fight."
Buffer's spine-tingling turn has brought him worldwide fame, millions of dollars, roles in Hollywood blockbusters and record-breaking video games, as well as a walk-in wardrobe full of dinner jackets and dickie-bows. Not a bad return from a chance conversation with his son.
"We were watching a fight one evening, in 1980, and my oldest son noticed the ring announcer was not doing the best job of announcing a split decision," says Buffer, who left the US Army in his early 20s having been a Vietnam volunteer. He first moved on to selling cars before dabbling in modelling and drifting into television commercials.
"So my son told me I could do that better. He had seen me do the odd thing on television, so I took his advice and got my foot in the door with boxing. And then it all took off."
In the early 1980s, American business magnate Donald Trump opened a string of casinos in Atlantic City and asked Buffer to introduce most of his venues' biggest fights.
Many included Tyson, who won six of his first 10 fights in the city, and Buffer found himself tethered to a shooting star. The menacing Tyson - "intense and tense, quite a sight to behold," says Buffer - and the impeccably polished ring announcer were a match made in heaven.
Today it is impossible to imagine the build-up to a blockbuster fight not including a tuxedoed ring announcer, whipping the crowd into a frenzy. But Buffer was one of the first of his kind - feeding off the crowd's energy, building the suspense cleverly, before launching into his lines like a veteran Shakespearian actor delivering a well-rehearsed soliloquy.
"I used to watch fights in the 1970s and early 80s," says Buffer. "There would be all this electricity and energy, and then the ring announcers would just kill the crowd, suck all the excitement out of the room.
"They would go right ahead and introduce the venue and the sponsors and the commissioners and chairman and three judges and four doctors and they wiped out everything.
"So I wanted a handle, a hook, just like at the big car races: 'Gentlemen, start your engines!' I wanted something that would bring that energy back, because the fighters were the stars of the show and I wanted to introduce them with the energy they deserved.
"I tried a few versions and nothing seemed right. But then I thought about the great Muhammad Ali - 'rumble, young man, rumble'. And in interviews I had heard him say 'I'm ready to rumble'. I fine-tuned that to what you hear today."

But Buffer's career - not to mention his jet-setting, glamorous life - was almost cut short six years ago when he contracted throat cancer. "That was very ironic," says Buffer. "Of all the things, it was happening to my voice, the very thing I make a living from.
"I faced my mortality. Having found three small tumours attached to the lower part of my tonsils and my throat, a few weeks later a very small portion of my throat was removed.
"I remember quite clearly waking up. I felt around with my hand from my ear to my lower jaw and I was completely bandaged up. Then I thought I needed to give the voice a try. So I said out loud: 'Ladies and gentlemen!'
"Why? I don't know. I could have said anything. But no, I said it and the voice was there, and it sounded pretty much the same to me. And I thought maybe I'd be able to carry on."
Just 30 days after surgery, Buffer was introducing Joe Calzaghe and Bernard Hopkins at the MGM Grand in Las Vegas - that silver hair expensively coiffured; that skin magnificently tanned; that voice, kept flexible with sweet, dainty songs and lubricated with lemon tea, as muscular as ever.
Buffer remains as busy as he has ever been. He will spend the week before Froch-Groves II in Dubai and Moscow, before landing in London on the very morning of the fight and doing his thing for the thousands in attendance at Wembley and millions watching around the world. Then it's off again to New York and back to his home in Los Angeles.
But while his stay in London will be brief, he will relish every minute of it. "The one thing I really appreciate about British fans is that they support the sport and their heroes with their wallets, their feet, their voices," says Buffer.
"They travel and they're vocal, and they're willing to save up and spend their money to get that ticket, that seat. When Ricky Hatton, Joe Calzaghe or Lennox Lewis fought in the United States, thousands of British fans would always turn up. There are no other fans in the world that do that, and I speak from well over 30 years of experience."
"Carl Froch against George Groves in front of 80,000 fans at Wembley Stadium is going to be spectacular - loud, and lots of singing. It's going to be one of those great, great nights of sport that, 40 years from now, grandfathers are going to be telling their grandchildren about.
"It's going to be like nothing that's ever happened before. And I will get to feel all that energy from the crowd, all their excitement.
"I really love it - I have one of the greatest jobs in the world."