Boxing: Lisa Whiteside gunning for gold at women's Euros
Last updated on .From the section Boxing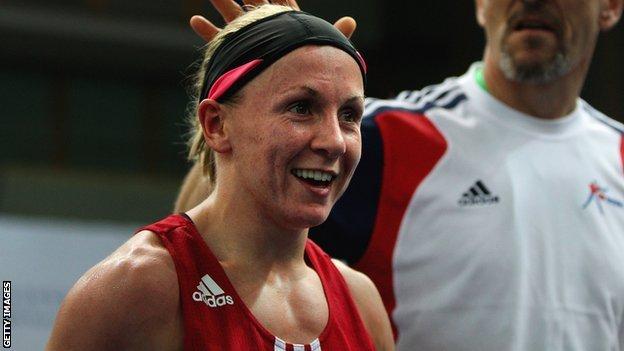 Britain's Lisa Whiteside hopes to go one better than last time and win gold at the European Championships in Bucharest, which start on Saturday.
Preston's Whiteside, 28, won silver at the same tournament in 2011, which was her first international event.
Whiteside will box at bantamweight in Romania, with Olympic champion Nicola Adams, Natasha Jonas and Chantelle Cameron also selected.
"This time I've got to get that gold," Whiteside told BBC Sport.
"Last time I missed out by a point but I was still working full time as a police firearms officer and in awe of the whole situation."
Whiteside also won bronze at the World Championships in 2012 before joining the GB Boxing programme full time in June 2013.
As there are only three weight categories in women's Olympic boxing, Whiteside is on the programme as a flyweight.
But with Leeds boxer Adams ahead of her in the pecking order at 51kg, she often competes as a bantamweight (54kg) or featherweight (57kg).
However, Whiteside believes she has the talent and the will to overtake Adams and represent Great Britain at the Rio Olympics in 2016.
"I've only been on the programme a year and I'm only young," said Whiteside, who won bantamweight gold at the European Union Championships last July.
"No disrespect to Nicola - she's extremely talented - but there's nothing stopping me. I'm the underdog but I'm willing to fight all the way.
"I've beaten some top girls, won some big tournaments and I'm up there in the world rankings. Why can't I beat Nicola Adams?"
Whiteside, who models her style on Manchester's former two-weight world champion Ricky Hatton, started boxing seven years ago.
"I did Thai boxing for four years from the age of 16 but joined the police and gave up," said Whiteside, who now boxes out of Larches and Savick Amateur Boxing Club in Preston.
"My friends and family told me, 'you're really strong, you need to compete', so I Googled female boxing, found a club and have never looked back."
Whiteside lost her first competitive fight but what would have been a dispiriting experience for many only left her wanting more.
"It was an all-out brawl, with no technical ability whatsoever," says Whiteside. "I was down afterwards but, if anything, it put more fire in my belly."
Having won silver and bronze at the Euros and Worlds respectively, Whiteside petitioned GB Boxing performance director Rob McCracken for a full-time place on his programme in Sheffield.
And after satisfying McCracken that she could compete at flyweight, Whiteside was granted a five-year career break by the police service.
"I was achieving the same if not more than the girls who were on the squad full time," said Whiteside, who has been married for four years.
"I was having to combine my boxing with shifts, long hours, paperwork, upsetting situations. Now, being in the GB team is pure luxury."
Having committed to boxing for the time being, Whiteside has put thoughts of starting a family on hold in order to fulfil her Olympic ambition.
"We made a decision to delay having children," said Whiteside. "Because it would be nice to say to them: 'Look what your mum did - she was a world champion and an Olympian.'"
Liverpool's Jonas, who also competed at the London Olympics, will fight in the light-welterweight category in Romania, while Northampton's Cameron will compete in the lightweight division.
Three boxers from outside the full-time programme will also compete for England - Bury's Sarah Dunne (featherweight), Manchester's Stacey Copeland (welterweight) and Lowestoft's Carly Ogogo (light-heavyweight).
Middleweight world champion Savannah Marshall will be absent because she has not recovered sufficiently from a foot injury.
At the last Euros in Rotterdam, Britain's women won four medals, with Adams winning gold, Whiteside silver and Jonas and Marshall bronze.