Stu Hall power will trouble Paul Butler, says Billy Hardy
Last updated on .From the section Boxing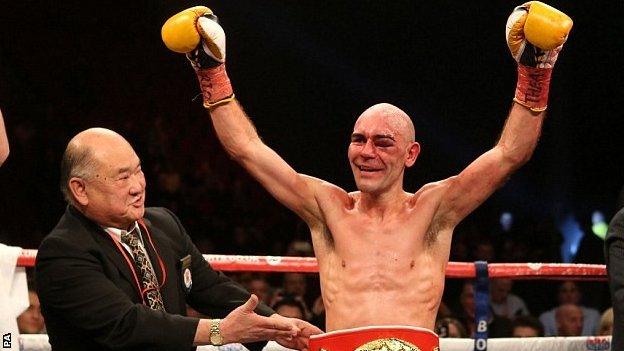 Ex-British, Commonwealth and European champion Billy Hardy believes Stu Hall has the power to trouble unbeaten Paul Butler in his IBF bantamweight title defence at Newcastle Arena on 7 June.
However, 34-year-old Hall insists he will "shock" Butler when the two meet.
"Hall is big and strong. Paul will have his work cut out," Hardy told BBC Tees.
"He's very open-minded in the way he feels he's going to do Stuart Hall, he's very outspoken, which we've seen.
"You've just got to look at his record, he's had 15 fights, 15 wins, eight by knock-out. Looking at the record going into a world title fight, you would think this is going to be one hell of a fight.
"But he's moved up four weights to get to Stuey Hall."
Darlington-based Hall has already described Butler's camp as "disrespectful" in the build-up to the bout, and the debate about the outcome has been played out on social media.
"Hype is great for the sport, you only have to look at the Froch-Groves situation, it's a multi-million pound fight and it all adds to the intensity, the build up and the mind games," Hardy added.
"Knowing Stuey, this won't hurt him, I think actually he will actually be more determined to get rid of him early doors.
"I cannot see it going 12 rounds, he told me he has a good conditioner, all the fitness guys around him with the nutrition side and he feels he can punch as a heavyweight so we'll see on the night."
BBC Tees will have uninterrupted commentary of Hall v Butler on Saturday, 7 June.