Carl Froch & George Groves eager for Wembley title fight
Last updated on .From the section Boxing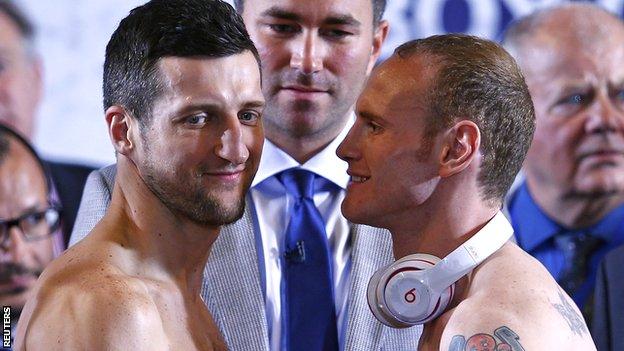 Champion Carl Froch delighted in the excitement ahead of his eagerly-awaited fight with George Groves on Saturday.
Such is the interest in the showdown, around 5,000 vociferous fans were at Wembley Arena for Friday's weigh-in.
"This is amazing. There are more people here than at most professional boxing matches and this is just the weigh-in, so it's fantastic," Froch told the BBC.
Froch, who has been beaten only twice in 34 fights, by Mikkel Kessler in 2010 and Andre Ward in 2011, said: "I feel really good. I have had 12 weeks to get my head around the fact I have got to fight George Groves again, which is no problem. It's boxing and I like to give the fans what they want. I've done it time and time again.
"This is the fight that makes sense. Two or three days after the first fight we decided I was going to fight George Groves again anyway it was just about getting it right and Wembley Stadium is getting it right.
"If I didn't fight George Groves I wouldn't have heard the end of it. Let's be honest, it would not have gone away. He would not have gone away. I'm satisfying everybody as well as myself with this match."
Groves, who at 26 is 10 years Froch's junior, weighed almost 2lb under the 12st limit, with Froch slightly heavier at 11st 13lb 9oz.
Froch tried to goad his opponent during a head-to-head stare down, but Groves maintained his composure and just smiled back.
Asked about what had been said between the two rivals at the weigh-in, Froch added: "Not a great deal. He is a guy that is maybe a little bit concerned this fight is dawning on him. He realises what he's done.
"He looks like a worried man today. He's going swing away, try and chin me, try his best to hurt me and I've got to do my best, which I will do, to make sure that doesn't happen. I will get to him and I will stop him.
Three-time world champion Froch, from Nottingham, won their first bout in Manchester last November via a controversial ninth-round stoppage.
Groves, who was taking part in his first world title contest, floored Froch in the first round and dominated the first half of the fight.
However, referee Howard Foster called a halt to proceedings in round nine, prematurely in the eyes of most observers.
Having petitioned the IBF for a rematch and been granted his wish, Groves could now be regretting the situation he finds himself in, according to Froch.
"He's talked how the first fight was such a bad decision - it was controversial but very subjective - that he has put all the pressure on himself and he has now got to go out there and perform and make this look easy which is impossible to do."
Groves was also delighted with the fervour generated by the fight, and outlined his plans for the future, having previously described Froch as "a man on death row" ahead of the fight.
"To sell 80,000 tickets for a boxing event is incredible. I am revelling in it. I can't let these people down on fight night. Luckily, I don't plan to do that anyway," the Hammersmith fighter said.
"I have got plenty of exciting fights to come once I have dispatched Carl Froch on Saturday night, a new chapter in my career but a new chapter hopefully in British boxing."
Saturday's bill is the first at the new Wembley Stadium since it opened in 2007 and the attendance will set a new post-World War II record for a boxing event in Britain.
The existing record is for Ricky Hatton's fight against Juan Lazcano at the City of Manchester Stadium in 2008, which attracted 55,000 fans.
The last fight at the old Wembley Stadium took place in 1995, when Frank Bruno beat Oliver McCall to win a heavyweight world title at the fourth attempt. However, that fight was only attended by 23,000 fans.
The all-time record for a British boxing match was set in 1939, when Cornwall's Len Harvey successfully defended his British light-heavyweight title against Rochdale's Jock McAvoy in front of an estimated 90,000 fans at London's now defunct White City Stadium.
But while promoter Eddie Hearn is calling Froch-Groves II the biggest British fight in history, by at least one measure it falls short.
Sky executives are anticipating one million buys on pay-per-view, which is just short of the British 1.2 million record for Hatton's fight against Floyd Mayweather in 2007.