Froch v Groves: Even Stephen Hawking couldn't predict outcome
Last updated on .From the section Boxing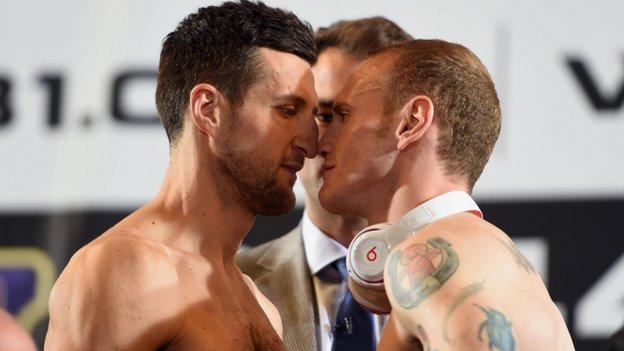 Stephen Hawking doesn't strike me as a man who wastes much time.
But you have to wonder why he has spent the last few weeks mucking about with mathematical formulas in order to predict whether or not England will win the World Cup when there are far more inexplicable mysteries at hand.
Why are we here? Where do we go? Who on earth is going to win the rematch between Carl Froch and George Groves at Wembley Stadium on Saturday?
Or perhaps Hawking did have a stab at that last one and ran out of blackboard.
The 'Froch-Groves II equation' is brimming with unknowns. But here's what is known: last November in Manchester, Groves knocked Froch down in the opening round before dragging him through hell; Froch sucked up the punishment, rallied and blew Groves out down the stretch; Groves accused referee Howard Foster of doing the extinguishing; here they go again.
The problem for those attempting to work out what will happen next time is that what they think they might know, might not be true.
Was that the real Carl Froch in Manchester? Was that George Groves at his best? Was Groves spent when Foster called a halt to proceedings? Is the world eternal? Does God exist?
It doesn't help that boxers like to stink out equations with red herrings, consciously and sub-consciously.
Take the mystery of the sixth round in Manchester. In Froch's mind it is the turning point of the fight, when he knew Groves had punched himself out. In Groves's mind it is Froch's worst nightmare, a three-minute beating that has haunted his rival ever since.
Ask the pros and ex-pros how they think the fight will pan out and most of them admit to being no wiser than us laymen. "You never know," said the super astute former two-weight world champion Paulie Malignaggi. And that was about it. "I wouldn't put any money on it," said Welsh super-middleweight legend Joe Calzaghe. "But I do know it's going to be a hard fight."
That it is going to be a hard fight is one thing we can be reasonably sure of. Which boxer will fall hardest might depend on how they choose to box.

Groves has suggested the fight will resemble the short war between Marvin Hagler and Tommy Hearns in 1985, three of the most furious rounds in boxing history. But surely this is bluff and bluster, given how the first fight went.
Groves began that first fight by bombarding Froch's defences with his heaviest ordnance. But when the shelling came to a halt in the middle rounds, Froch was staring back at him through the smoke. Battered but unbowed.
It was not the first time Nottingham's self-styled warrior had emerged from a pockmarked bunker and driven an enemy back.
Jermain Taylor outclassed Froch for most of their fight in 2009, only for Froch to come on strong in the final round and stop his American rival with 14 seconds remaining.
Even Andre Ward, who led Froch a merry dance when they fought in 2011 and ultimately won a unanimous decision, was tiring in the final two rounds.
"Carl has a way of making you question yourself," said Malignaggi. "He can raise the temperature at a certain point and make opponents wilt. But last time we were robbed of the chance to see if George could withstand that late surge."
It must have been drilled into the Londoner by his trainer Paddy Fitzpatrick that the best course of action against a mighty - but often ungainly - power such as Froch is to eschew full-frontal war and employ guerrilla tactics instead.
You would think Groves, 26, wouldn't need much drilling, given he has spent the last six months telling everyone he is a better technician than his rival, with faster hands, a better jab, better shape and better footwork.

But, like Hearns before his fight with Hagler, is Groves too enamoured with his own power? Watch Groves's torrid fight with Kenny Anderson in 2010 and you will hear his then trainer Adam Booth imploring him not to slug with a slugger - after round three, when Groves got knocked down, after round four and again after round five. Groves slugged Anderson into submission in round six.
Booth says Groves got too greedy in the first fight against Froch, overstretching himself when he should have stayed measured. And even if Groves's game-plan for the rematch is to pace himself and be more cautious, will he be able to resist when Froch puts it on him and 80,000 voices will him to stand and trade?
"What separates world-class fighters from those just beneath them is the ability to remain disciplined," said Malignaggi. "If George wants to be at - and remain at - this level, it's important he sticks to a game-plan for 12 rounds. Letting your emotions get the best of you during a fight is a recipe for disaster."
In addition, just as Froch underestimated Groves before their first encounter, there is the possibility that Groves has underestimated Froch this time around.
"Rob McCracken is a good coach and he's probably told Carl to tighten his defences, not cross his feet and not lead with his chin," said Groves of his rival, who turns 37 in July.
"But Carl hasn't been able to make those adjustments up until now and it's a hard thing for a man of his age to do and a hard thing to do in a time of crisis."
But any fighter who has been knocked on their backside by the sort of concussive punch with which Groves floored Froch in the opening round of their first fight will tell you that it can take five or six rounds to recover from.
So the Froch that Groves gave such a shellacking was likely a shell of a man, groping hopefully in the fog. And while Groves has convinced himself that Froch is technically shambolic, Froch was a fine amateur who has demonstrated in the paid ranks that he can box from the textbook when he wants to.
"People don't realise I'm a very skilful boxer when I want to be and do what I'm supposed to," said Froch, who regards as his best fight his 12-round shutout of Arthur Abraham in 2010. "I'm going to show that on Saturday."
We should certainly expect Froch to make better use of his jab in the rematch, if only to break up his rival's rhythm and keep him off balance. And we should expect him not to let fly with wild three- and four-punch combinations, which are a boon to an accurate counter-puncher such as Groves.
Even if Froch does manage to stay disciplined and keep his shape, it would not be a surprise if Groves took a healthy lead into the final third.
At which point we should find out whether he has what it takes to withstand one of those late Froch surges, which must be like trying to stay upright in the face of a tsunami.
Whatever the outcome, everyone involved in boxing should just be happy the fight is taking place. Promoter Eddie Hearn's claim that it is the biggest in British history may irk some of those who recall the sport's last golden age on terrestrial television, when 10m viewers regularly tuned in, but managing to pack out the national stadium is a Herculean undertaking nonetheless.
Hearn's 'build it and they will come' approach is further proof that the British fight game always manages to mutate in order to stay healthy and is wonderfully organic in a way other sports are not. From seemingly nowhere, here we all are, anticipating a prize fight in front of 80,000 at Wembley.
Depending on the result, it will be a contest that comes to define both men - perhaps rightly in the case of Groves and possibly wrongly in the case of Froch.
Unless it's a draw, in which case they'll probably have to do it all again.