Bradley Saunders sets sights on world title contention in 2015
Last updated on .From the section Boxing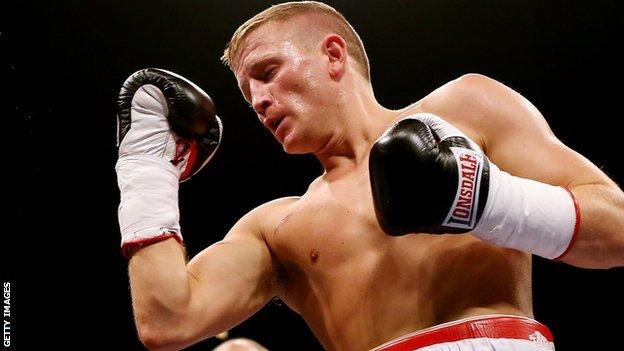 Sedgefield light-welterweight Bradley Saunders hopes to be in world title contention in the summer of 2015, after taking the WBO inter-continental belt.
Saunders, 28, knocked out Finnish fighter Ville Piispanen inside the first round in Newcastle on Saturday to pick up the vacant champion position.
The fight was his 10th consecutive victory since turning professional.
"If it all runs well then this time next year I hope to be knocking on the door," Saunders told BBC Tees.
"I want to get some big names, I'm training really hard in the gym."
Now over the hand injures that delayed his progress in the professional ranks, Saunders moved his training camp to Spain and now has the honours to validate his efforts.
"It means the world, it's what I'm in it for," Saunders continued.
"I believe I can be number one, that's what I'm in the sport to be. If I didn't think I could do it then I wouldn't go through all the diets and training.
"We're on the way up now and the move now, I've got to keep moving forward."