Ricky Burns faces a fight that will define his boxing future

By Richard Wilson
BBC Scotland
Last updated on .From the section Boxing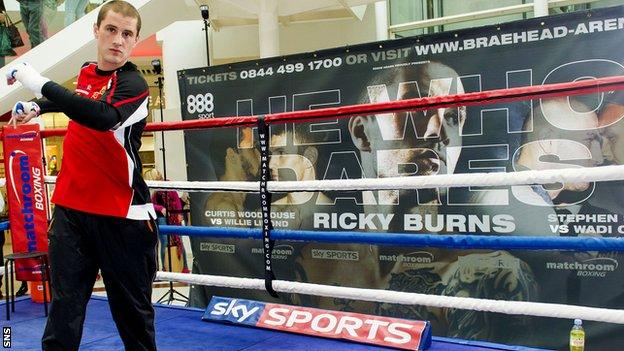 A series of opponents may yet lie in wait for Ricky Burns but, in reality, he is fighting against decline.
His contest with Dejan Zlaticanin at Braehead Arena on Friday is more than a world-title eliminator, since Burns' immediate future is at stake.
He was a world champion for more than four years, at super-featherweight and lightweight, only for defeat against the American Terence Crawford last March to return the Scot to the massed ranks of the challengers.
At 31 years old, there is no need to accept that his period of acclaim is over, but Burns has to convince that he is capable of restoring his standing.
Even his circumstances have introduced an element of doubt.
Having decided a change of trainer was necessary - with some staleness perhaps creeping into a hitherto fruitful working relationship - Burns moved from Billy Nelson's gym close to his Coatbridge home to work with Tony Sims in Essex.

There were personal aspects to the decision. Burns recently became a father and the sense amongst some of his support team was that the comforts of family life had taken some of his edge. He now travels to England on a Monday morning and does not return until the following Friday night.
The sacrifices are not a burden to Burns, though, since boxing has usually been the priority in his life. After fights, he often took only a few days off, for instance, before returning to the gym.
In coming to terms with this switch, and the psychological effects of the Crawford defeat, Burns might have taken a temporary step back into domestic competition, to rebuild. That would have felt like relinquishing his status as an elite fighter, though, and he was not prepared to accept that.
His promoter, Eddie Hearn, acknowledged that Burns would have been wise to take a less demanding contest in his first fight under Sims, since there are new techniques and strategies to contend with. The Scot, however, has no inclination to accept that kind of accommodation.
The determination is typical as Burns has overcome every setback in his career.
There were two previous losses before he reached world-title level, then a draw with the WBO lightweight challenger Raymundo Beltran that most observers felt was unfair on the Mexican. Burns suffered a broken jaw in the latter contest, in September 2013, and underwent surgery to fit a titanium plate.
His next fight was the defeat by Crawford and, although Burns took it to 12 rounds, he was comfortably beaten on points.
There were moments during that bout when it seemed he was holding back, as if concerned about leaving his jaw exposed, even though he insisted afterwards that he carried no doubts into the fight following surgery.
The sense, all the same, is of a career on the slide. He refutes this, but there is no escaping the notion that momentum has slipped from Burns.
Ricky Burns' record
39 fights, 36 wins (11 knock-outs), 1 draw, three losses
WBO lightweight champion (2012 - four defences)
WBO super featherweight champion (2009 - three defences)
He insists he will continue to fight at lightweight and that even defeat against Zlaticanin will not end his hopes. That is, though, a reflection of his understanding that boxing is his professional life and that he will carry on, regardless of what level he is fighting at.
Burns has always been wholly committed to the sport. Fame had little chance of leading him astray when he spent spare weekends working part-time at a local sports retailer. The attitude is admirable, but it carries little impact when Burns is in the ring against superior opponents.
There was no means to overcome Crawford, although Burns' will and resolve kept him from being stopped.
Zlaticanin is less accomplished, less experienced and so more susceptible but, as a southpaw with an aggressive style, he is a dangerous boxer for Burns to face.
It will be a matter of indifference to him - since his focus ought to be on his own fortunes - but Scottish boxing would be diminished, too, by any further setbacks. Burns, after all, took over from Scott Harrison and, briefly, Alex Arthur, at the forefront of Scottish boxing.

Their shows provided exposure on the undercard for up and coming fighters, which Burns took advantage of. He offers the same opportunity now, and Stephen Simmons will be the main attraction on Friday as he takes on Wadi Camacho in what has become a grudge match.
Nonetheless, there are few candidates who look ready to step up to world level, and it is typical of that state of affairs that the other intriguing fight on the undercard involves Willie Limond, who is now firmly established as a veteran.
Hearn will understand that a defeat for Burns will reduce the likelihood of Scotland being able to host major bouts, even if there is a committed core of fans. It is world-title fights that draw in additional spectators.
A victory for Burns will open up the possibility of a bout against Omar Figueroa or Jorge Linares, who are fighting for the WBC lightweight title.
That contest could be held in October, but while opportunities may still lie in wait for Burns, so too does further decline.