Ricky Burns: Dejan Zlaticanin wins WBC lightweight eliminator
By Richard Wilson
BBC Scotland
Last updated on .From the section Boxing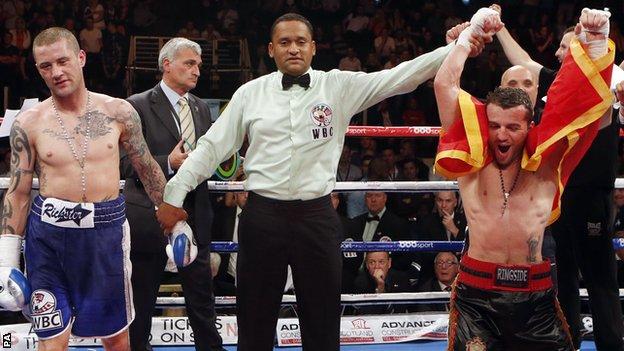 Ricky Burns's bid for redemption ended in defeat as he lost a split decision to Dejan Zlaticanin on Friday night.
The Scot was floored by Montenegrin Zlaticanin inside 30 seconds of their WBC lightweight eliminator in Glasgow.
Burns climbed off the canvas but had no match for Zlaticanin's fierce left hand, and lost a split decision 115-113, 115-113 and 113-115.
It leaves the future of Burns' career in doubt following the loss of his WBO title to Terence Crawford last March.
Burns was immediately aggressive and tried to use his height and reach advantage to pressurise Zlaticanin in a bid to take control of the fight.
He needed to be wary of his own assertiveness, though, since his opponent landed a glancing left hook that sent Burns to the canvas in the opening 30 seconds.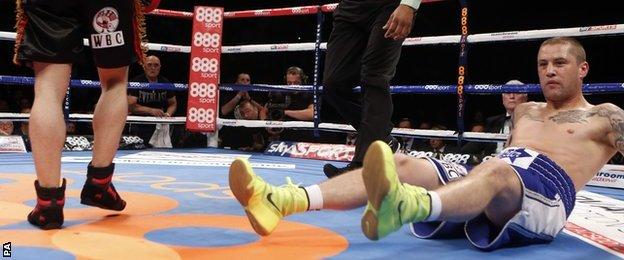 The Scot took time to recover, retreating behind his defence as he tried to regain his senses.
Zlaticanin went into the bout with 13 knockouts and no defeats in his 18 fights, and even when Burns did recover his poise the Montenegrin's heavy hands were a constant threat.
Working under a new trainer in Tony Sims, there was certainly a speed and intent to Burns. The restored intensity was key, because it was the only way to keep his opponent at bay. Zlaticanin's body shots, in particular, were a menace to the Coatbridge boxer, who had to rely on his wits.
A squat, aggressive fighter who was always on the front foot, Zlaticanin hounded Burns at times. The Scot had to rely on his experience and his reflexes to counter him, since the jab alone was not enough to contain such attacks.
Every time Burns tried to impose himself, Zlaticanin either flashed a left hook onto his open chin or unleashed a flurry of body blows. Burns, as a result, struggled to take control. Zlaticanin just kept slinging his overhand left into Burns' face or midriff, constantly reminding the Scot of his vulnerability.
Ricky Burns' record
40 fights, 36 wins (11 knock-outs), 1 draw, four losses
WBO lightweight champion (2012 - four defences)
WBO super featherweight champion (2009 - three defences)
By the middle rounds, Burns was more authoritative, and his right hand occasionally caught Zlaticanin flush. He was never far from a moment when that thudding left would breach his defences, though.
Burns sought to be more commanding in the 10th round, but there was always a stinging left hand ready to disrupt his rhythm. The home fighter knew he needed to stop his opponent in the final round, and one shot caught Zlaticanin off balance. But Burns could not deliver a decisive blow.
The main undercard contest saw Willie Limond win the British light-welterweight belt and retain his Commonwealth title with a points victory over Curtis Woodhouse.
It was scored 116-111, 113-113 and 117-109 to Limond, a reflection of the Glaswegian having landed the cleaner and more precise punches.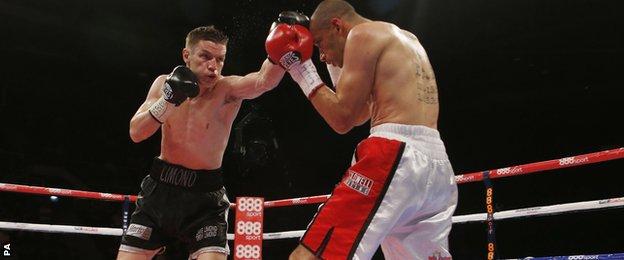 The bout saw two well-matched boxers - both are 35, both are former footballers, and both brought limitless energy and courage into the ring - trading blows with each other out of instinct as much as strategy.
But Limond twice dropped his opponent to the floor during the course of an intriguing and technically precise bout and that made the difference.
Stephen Simmons and Wadi Camacho exchanged insults in the build up to their WBC International Silver cruiserweight title contest, after Camacho made crude remarks on Twitter about Simmons' wife.
The bad feeling spilled over during the weigh-in but the fight itself was a plodding, frequently cautious affair until the 10th round when Simmons found the urgency, power and range to force the referee to step in and stop the contest.