Eddie Hearn says Ricky Burns' career at the top is over
Last updated on .From the section Boxing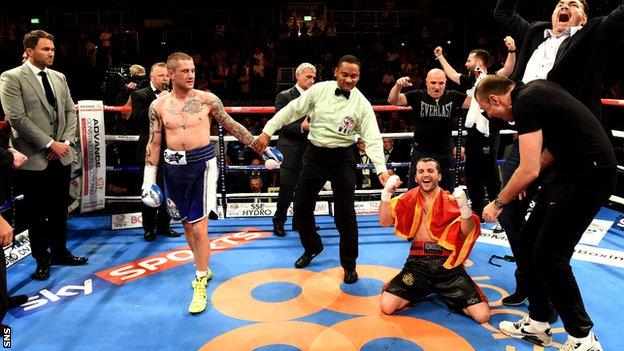 Boxing promoter Eddie Hearn says Ricky Burns will not fight at world title level again after the Scot suffered defeat against Dejan Zlaticanin.
Burns lost a split decision in the WBC lightweight eliminator in Glasgow on Friday night, but Hearn does not believe his career is over.
"I might be watching a fighter that hasn't got it at world level any more," said Hearn.
"But I'm not watching a fighter who can't compete in big fights."
Burns was knocked down in the first 30 seconds of the contest and looked susceptible to the left hook throughout the 12 rounds.
Despite offering more in the second half of the bout, Burns rarely troubled the Montenegrin and Zlaticanin took the fight 115-113, 115-113 and 113-115.
Burns lost his WBO title to Terrence Crawford in March, after retaining it following a controversial draw with Raymundo Beltran last year.
Hearn hopes the 31-year-old Scot will continue boxing, but concedes that his days at elite level are numbered.
"He's shown he's not ready to fight for another world title and that's the heartbreaking thing," added Hearn.
"If he says to me 'I don't want to be involved in domestic fights', then he's done.
"Boxing and competing is not all about world level, there are big domestic fights out there. It's all about desire.
"I want Ricky to fight again because I know how much it means to him and the desire he's got. I think there would be a huge void in his life without the sport of boxing.
"He's in tears back stage, absolutely devastated, and more devastated than when Crawford beat him, because he knows deep down he's too good to be losing at that level.
"Not taking anything away from Zlaticanin, he was game and he was fresh, but he's not a Crawford or a Beltran, he's a fighter with the pedigree that Ricky should be beating. And I feel he would have beaten him without that start."
Scotland's former WBO super featherweight champion Alex Arthur also believes Burns' career at the top of the sport is now over.
And he says the broken jaw Burns suffered in the draw with Beltran, which led to him having a titanium plate fitted, has been key to his last two defeats.

"Ricky was below par, he never turned up tonight," said Arthur. "I think the fact he's had a really bad injury has played a part in it, it's affecting his style, the way he performs.
"It's definitely affected him psychologically, there's no doubt about that, you can clearly see it.
"I don't think we'll see Ricky back at this level again but there are still some good domestic fights out there for him. Ricky loves boxing and I don't think it matters to him what level he's competing at, he's happy just to fight. I wouldn't want to go out on a defeat like that."