Floyd Mayweather to meet Marcos Maidana in Las Vegas rematch
Last updated on .From the section Boxing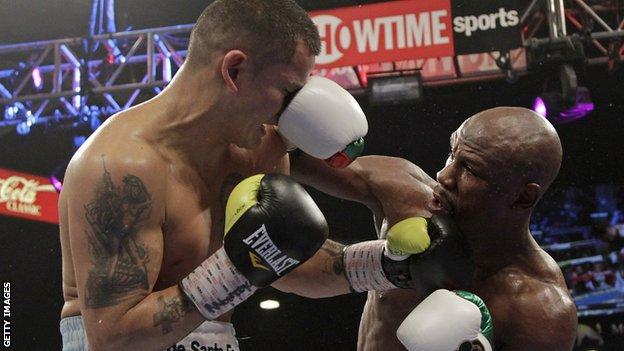 Undefeated welterweight champion Floyd Mayweather is to have a rematch with Argentina's Marcos Maidana.
The two will again meet in Las Vegas on 13 September.
"I only see the outcome one way and that's another successful night for me and my team," said Mayweather.
"I'm not one to give second chances in the ring, but I want to give the fans what they want to see.
BBC boxing correspondent Mike Costello
"Mayweather was pressured all the way by the battling Maidana [in May].
"The crowd howled at the end, but many of the punches thrown by Maidana hit Mayweather's arms or shoulders or missed the target altogether."
"His style is difficult at best, but with experience comes a way and will to win."
In the previous fight in May, one judge scored 114-114 while the other two made it 116-112 and 117-111 to Mayweather.
Mayweather is closing in on the 49-0 career mark of former heavyweight champion Rocky Marciano, having won all his 46 fights.