Dereck Chisora & Tyson Fury in £10,000 wager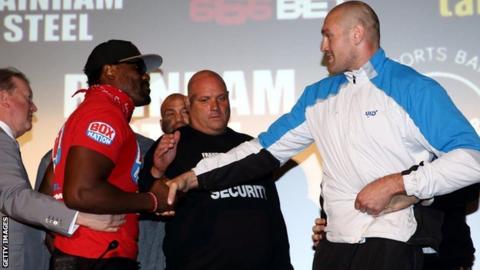 Dereck Chisora and Tyson Fury shook hands on a £10,000 bet on the outcome of their world title eliminator.
The British pair meet in Manchester on 26 July with the winner set to challenge IBF, WBA and WBO heavyweight champion Wladimir Klitschko.
"I'm going to annihilate him," said Fury. "There's no doubt in my mind. I'm flattening his big, ugly, fat face."
Chisora countered: "You can't take a dog to a dinner-table can you? He can't intimidate me. I'm laughing at this."
Head-to-head
Chisora
Fury
30
Age
25
6ft 1in
Height
6ft 9in
74in
Reach
85
20
Wins
22
4
Losses
0
Chisora, 30, will put his European heavyweight title on the line as he looks to avenge a 2011 defeat on points by Fury. The vacant British crown will also be up for grabs.
At a news conference, Fury offered the wager and, when the pair rose to shake hands, tempers boiled over.
Fury threw down his jacket and offered to fight Chisora on the stage of the London cinema where the event was being held.
"For me this is nothing more than a stepping-stone fight," said 25-year-old Fury. "Dereck Chisora is a journeyman, what champions do to journeymen is they smash them to bits.
"If I can't smash him to bits then I must be a journeyman too."