Brain-cyst boxer Iain Weaver signs promotional deal
Last updated on .From the section Sport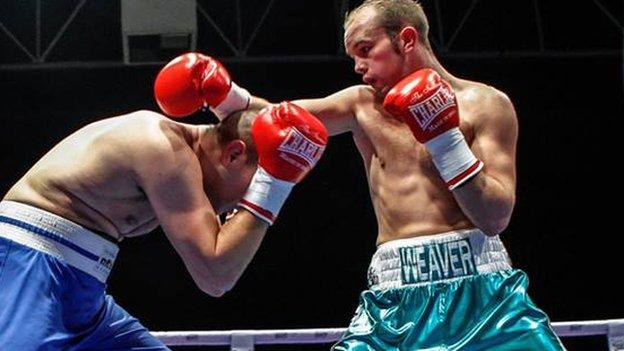 Former GB amateur star Iain Weaver has signed a promotional deal with Leija Battah Promotions in the United States.
He will now base himself in San Antonio for up to four months a time and will box out of Jesse James Leija's stable.
"It's the best opportunity I've had since turning pro," Weaver told BBC Radio Solent.
Leija, is a former world champion, and his promotional team work closely with Oscar de la Hoya's Golden Boy Promotions.
Weaver hopes after two years of torment on the professional circuit, the new deal may finally mark a turn in fortunes for the Ferndown fighter.
"They put some massive shows on and I will get some great opportunities," he added.
Weaver has a professional record of five wins and one loss from his six-fight career but believes he was on the wrong side of a 'home' decision in New Jersey earlier this year.
"I've always been the away fighter," he explained. "The last fight I went to the kid's back yard, an unbeaten fighter, and I won the fight comfortably but the reason I lost was because I didn't have a promoter and was the away fighter.
"It was a kick in the teeth, not nice. You take risks and I've seen the bad side of boxing, hopefully now I can see the good side. Finally everything is going to be in my favour."
Weaver, who hopes his next fight will be September, says he has all but given up of trying to gain a licence in the UK but hopes a move to America can propel him onto the world stage.
"It's much less important to me," he said. "Boxing in America is bigger than in Britain. The fights are better, if I make it in America I will be fighting for world titles.
"All I've ever dreamed of was winning the British title but I know that is out of the window. Maybe in the future if I win the world title I may be invited back and offered a British licence."