Amir Khan targets Devon Alexander or Robert Guerrero for next fight
Last updated on .From the section Boxing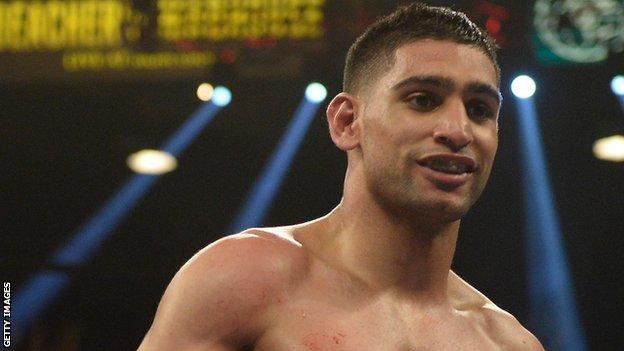 Amir Khan says he is looking to face Devon Alexander or Robert Guerrero in England before the end of the year.
The Bolton boxer, 27, believes meeting one of them could serve as a warm-up to a possible fight next year with Manny Pacquiao or Floyd Mayweather.
"Those fights can definitely happen in the future but I need a 'tickover fight' in December," he told the BBC.
"I would like it to be in England and I am trying to get it over here. If not it could be America, or even Dubai."
Amir Khan's possible opponents in December
Robert Guerrero,
31, is a four-division and six-time world champion. 'The Ghost' lost to Floyd Mayweather Jr in the WBC welterweight championship fight in May 2013 on a unanimous decision
Devon Alexander,
27, is a former WBC and IBF light welterweight champion and a former IBF welterweight champion
Former world light welterweight champ Khan stepped up to welterweight to fight Luis Collazo in Las Vegas on the undercard of Floyd Mayweather's bout with Marcos Maidana in May, and knocked the American down three times on his way to a unanimous points decision.
Khan says he then tried to set up a fight with Mayweather, 37, or eight-division world champion Pacquiao, 35, only to be rebuffed.
WBC welterweight champion Mayweather opted for a rematch with Maidana in Las Vegas on 13 September, while Pacquiao announced that he would fight the unbeaten Chris Algieri in November.
"We were looking at Manny Pacquiao, but that fell through. We looked at Mayweather but that didn't happen because of Ramadan," he told BBC North West Tonight.
"Opponent-wise we have looked at a few names, such as Devon Alexander or Robert Guerrero, but we have not confirmed anything just yet. We have to make sure they are available at the time. "