Kell Brook v Shawn Porter: Englishman 'ready' for tough fight
Last updated on .From the section Boxing
Kell Brook hopes to erase a "nightmare" year when he challenges Shawn Porter for the IBF welterweight title in Carson, California, on Saturday.
Sheffield's Brook, 28, had three dates against then IBF champion Devon Alexander cancelled in 2013 because of injuries to both boxers.
"I'm on to a new chapter now and Porter is in a whole heap of trouble when he gets in the ring with me," said Brook.
Porter beat fellow American Alexander in December to take the IBF title.
Brook added: "I'm happy, I'm fit and I'm well. It's going to be a seriously tough fight but we're ready. He's a strong, come-forward fighter but styles make fights and you're going to see the best in me."
Brook's first world title eliminator took place in October 2012 but his ankle and foot injuries, and a biceps injury to Alexander scuppered the Englishman's ambitions.
Instead, Alexander fought and beat Essex boxer Lee Purdy last May, a moment Brook cites as his lowest in the sport so far.
"Last year was the darkest time of my career, unbelievably frustrating and hard to get through," said Brook, who is unbeaten in 32 professional contests, with 22 knockouts.
"People don't realise that boxers don't get paid every week or every month, they get paid when they have a fight.
"So to train hard for weeks and months and for it all to fall through because of injuries is hard to take. I was so desperate to fight I was pleading with doctors to give me injections.
Shawn Porter
"Being that this is only the second time Kell Brook has fought in America, I hope he feels that added pressure of the big fight."
"When Lee Purdy boxed for the title I was so down about it. I've not watched that fight to this day. I hate the sport sometimes but I love it as well. It's a funny one."
Ohio native Porter, 26, is unbeaten in 24 pro fights (15 KOs) and surprised many when he demolished tough veteran Paulie Malignaggi in four rounds in April.
Malignaggi had lost four times previously, including to Britons Ricky Hatton and Amir Khan, but never in such comprehensive fashion.
"He hadn't stopped anyone for two years and all of a sudden he's knocking someone out who had gone the distance with some massive punchers. It was weird to see," said Brook.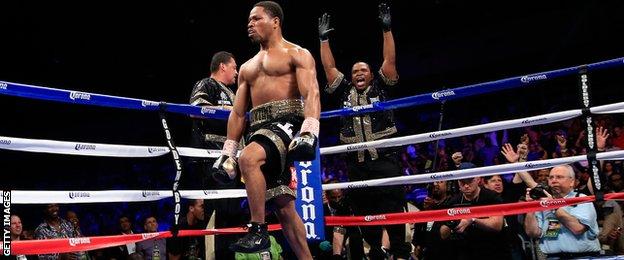 Porter wants to make it two early finishes in a row at the StubHub Center and knows that a big-money fight against undefeated five-weight world champion Floyd Mayweather could be the reward for victory.
"Going four rounds or less would be a beautiful night for me," said Porter, who is trained by his father Kenny in Las Vegas.
"I am very humble, but when I get into that ring it's my time to shine. I will be showing off for the fans, my team, and for my future opponents.
"Being that this is only the second time Kell Brook has fought in America [Brook stopped Luis Galarza in Atlantic City in 2011], I hope he feels that added pressure of the big fight. The energy of the StubHub Center crowd will make him feel it, that's for sure.
Dominic Ingle, Kell Brook's trainer
"It's maybe 60-40 for Shawn because it's in America - but it's not a fight I see Kell Brook losing."
"I know that he is a great fighter and I can't look past him - that would be a huge mistake. But I will be walking out with that title again."
Brook has been dreaming of winning a world title since walking through the door of the famous Ingle Gym in Wincobank, Sheffield as a nine-year-old.
Brendan Ingle trained British greats Herol Graham, Naseem Hamed and Johnny Nelson, among many others, while Brendan's son Dominic handles Brook.
"I'd seen all those fighters on television and that's what I wanted to be," said Brook. "I used to pretend I was them when I was training so I've been looking forward to this moment for a long time. Now it's all slotted into place."
However, Dominic Ingle is realistic enough to be wary about the outcome of Saturday's encounter.
"Shawn Porter is no Floyd Mayweather or Manny Pacquiao," said Ingle. "He's similar to Kell, he's never fought anybody that I would consider a big name.
"Alexander and Malignaggi had both had their day [when Porter beat them] and he didn't look remarkable. People can say the same about Kell, though, the only 'name' on his record is Vyacheslav Senchenko who he demolished in four rounds [last October].
"In England, Kell would win the fight 100%. He is 28 and he has to take his chances when they come but we're up against it in California. It's maybe 60-40 for Shawn because it's in America - but it's not a fight I see Kell Brook losing."