Carl Frampton v Kiko Martinez: IBF super-bantamweight title fight
Last updated on .From the section Boxing
Carl Frampton expects IBF super-bantamweight champion Kiko Martinez to be "wild and dangerous" when they meet in Belfast on Saturday.
And Frampton, who is challenging for a world title for the first time, says they have unfinished business.
"He has a genuine hatred for me. I don't hate him, but I wouldn't say we're best friends," said Frampton, 27.
"You can see it in his eyes, because I'm the only guy to knock him out.
Frampton's journey

Born

21 February 1987, Belfast, Northern Ireland

Family

Lives with wife Christine and three-year-old daughter Carla in Lisburn

Boxing background

Started boxing at Midland ABC, Tiger's Bay before moving to Holy Family ABC in New Lodge as a professional

Connections

Managed by Barry McGuigan, trained by Barry's son Shane in London

Amateur record

125 fights, 114 wins, 11 defeats; two-weight Irish champion; European silver medal 2007; 12 international medals

Pro record

18 fights (13 KOs), 18 wins

Pro honours

European & Commonwealth super-bantamweight champion
"He's very emotional and that's what makes him dangerous, he lets situations get to him. He's a hot-head, he can be very easily agitated but he's coming to win."
Saturday's fight will take place in a purpose-built, 16,000 capacity arena in Belfast's Titanic Quarter and will attract Northern Ireland's biggest ever boxing crowd.
As well as the United Kingdom and Ireland, the fight has also been sold to the United States, South America, China, Japan and the Middle East.
Should Frampton win, he will become Northern Ireland's first bona fide world champion since fellow Belfast fighter Wayne McCullough in 1996.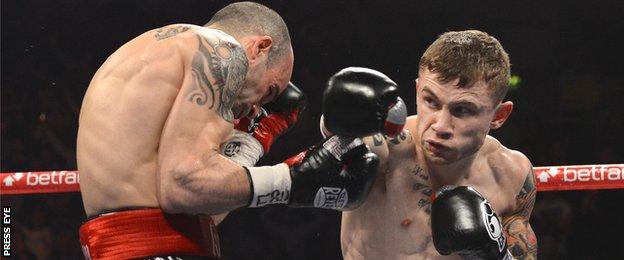 "It's a bit of an understatement to say I'm looking forward to it," said Frampton, who is managed by Ireland's former featherweight world champion Barry McGuigan and trained by Barry's son Shane.
"Getting a world title fight at home, at such an historic venue, a stadium being built for me, it's what dreams are made of."
When McGuigan won the WBA featherweight title from Puerto Rican great Eusebio Pedroza in 1985, an estimated 20 million people were watching on the BBC.
Boxing is not as big as it was then, but McGuigan believes his charge has all the ingredients to follow in his footsteps.
"Carl is making his own history, he's the biggest draw in the super-bantamweight division and he's not even a world champion yet," said McGuigan, who first saw Frampton in action at the 2007 European Amateur Championships, when he won a silver medal.
"He's clever, he's smart, he's aggressive. He can box going forwards, he can box going backwards and he can knock guys out with either hand.
"We're expecting an improved and revved-up Kiko Martinez and it's going to be a tough fight. But Kiko fights coming at you, he can't suddenly reinvent himself.
"Carl will have to defend and attack at appropriate times and I'm convinced the fans will carry him to a great win."
Shane McGuigan said he recognised similarities and differences between his father and his fighter.
"They both punch hard, they both have fantastic left hooks and they both have charisma," said Shane, a former Ulster amateur champion who is only 24.
"But dad was a face-forward pressure fighter, fought at a high pace and moved his head very well. Carl is a completely different kettle of fish.
"Carl works on the back foot, boxes and moves and can punch with both hands. I'd say dad would have pipped him but I'm biased."
Frampton, a former European and Commonwealth champion, is already setting new goals, including beating Bury's WBA title-holder Scott Quigg and unifying the 122lb division
"If I remain cool and stick to the game-plan, there's only one winner in this fight," said Frampton, originally from Tiger's Bay in north Belfast.
"After Kiko, there are a few guys to be taken care of in the super-bantamweight division.
"I'd be telling a lie if I said I didn't want to finish all that rubbish with Scott Quigg once and for all. People still think he's better than me. I don't know why."