Anthony Ogogo: Achilles surgery for Olympic medallist
Last updated on .From the section Boxing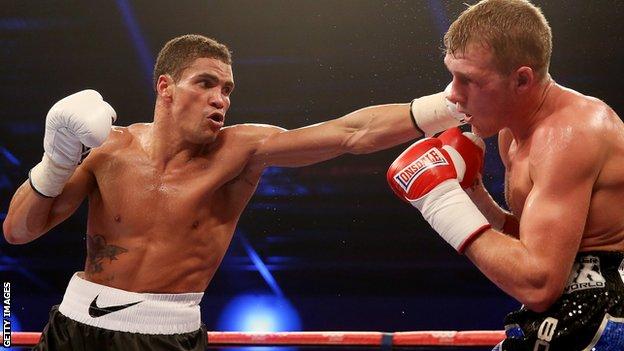 British Olympic medallist Anthony Ogogo has had surgery to relieve pain in both of his Achilles tendons.
Lowestoft's 25-year-old middleweight, who won bronze at London 2012, has been plagued with chronic Achilles pain since the 2010 Commonwealth Games.
He has won all seven of his bouts since turning professional in 2012 but pulled out of a fight in Las Vegas last year.
"I don't know how much of me has been on display in the last four years of me competing," he said on his blog.

"There's probably never been a happier guy that's about to get cut open, sliced and diced. This is a good thing. I'm buzzing almost like I've just won a fight."
Ogogo has not given a length of time for his recovery, but rehabilitation from this type of surgery can take a number of months.
"Chronic bilateral Achilles pain which has plagued an athlete over a long time is, well just terrible," he added.
"Particularly in a sport like boxing where you're constantly on your toes, floating around the ring, your feet are imperative. You need them to dash in and out of range at great speed. With bad Achilles it doesn't enable you to do this.
"In a few years time I'm sure in saying that in me, Britain will have a new middleweight world champion."