Scott Quigg says he would relish Carl Frampton fight
Last updated on .From the section Boxing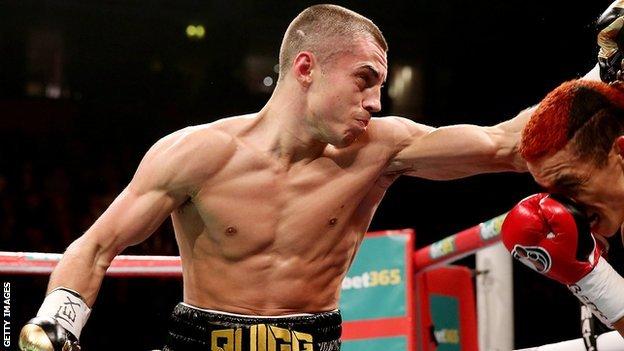 Scott Quigg has responded to IBF super-bantamweight champion Carl Frampton's challenge by saying he would relish the chance to settle their rivalry.
Frampton beat Kiko Martinez in Belfast to take the world title on Saturday, then said the "only man" he wants fight next is WBA title-holder Quigg.
"I was pleased to see Carl win the title and now it makes perfect sense for us to fight," said Quigg.
"It's one of the biggest fights in British boxing."
The unbeaten British pair have been constantly linked with a domestic dust-up as their professional careers have continued to soar in the last few years.
Frampton, 27, raised the stakes over the weekend by defeating Martinez in his home city to take the Spaniard's world title.
Bury fighter Quigg, 25, will defend his title against late replacement Stephane Jamoye in Manchester on Saturday.
Should he come through that test as expected, Quigg is keen to take on Frampton in a unification bout, adding he would be happy to face the Northern Irishman in his own backyard if it is the best venue.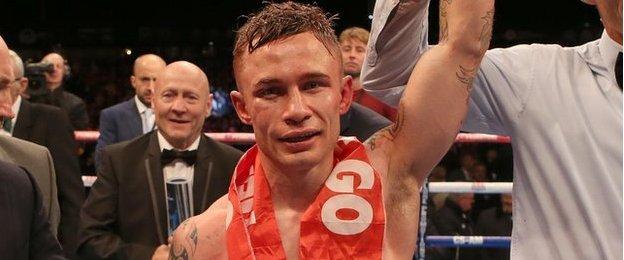 "I'll fight him in Belfast, no problem - but 9,000 in Belfast versus 20,000 in Manchester, it makes more sense to do it there," said Quigg.
"But if they can find somewhere in Belfast with 20,000 then I can go there, I don't care.
"We both think we can win so there's no reason why we shouldn't fight - and I know that I will come out with both belts."
One sticking point to the bout taking place in the next few months is that Frampton could have to face the IBF's mandatory challenger Chris Avalos, meaning an all-British showdown may have to be put on hold.
Speaking on Monday, Frampton's manager Barry McGuigan explained that "how Carl is from a health perspective will determine what the next steps are".
He added: "We'll discuss things with the IBF and within our own team and make sure Carl is completely well before he starts training again."