Floyd Mayweather wants two more fights after Marcos Maidana
Last updated on .From the section Boxing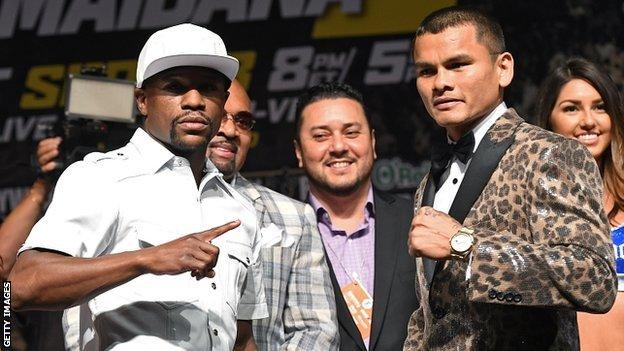 Floyd Mayweather said he intends to have two more fights after Saturday's rematch with Marcos Maidana in Las Vegas before retiring in 2015.
However, the 37-year-old Mayweather quashed reports that he is in talks with Philippine legend Manny Pacquiao.
Mayweather, who is unbeaten in 46 professional fights, earned a majority decision over Argentine Maidana in May.
"I've only got two more fights left [after Maidana]," said the welterweight and light-middleweight world champion.
Asked about the possibility of fighting seven-weight world champion Pacquiao, who defends his WBO welterweight title against Chris Algieri on 22 November, the American responded: "Not true.
"I can't say what the future holds but [Pacquiao's promoter] Bob Arum and Pacquiao are trying to sell tickets for the Algieri bout."
Floyd Mayweather factfile
Born:
24 February 1977, Grand Rapids, Michigan
Amateur record:
84 wins, six defeats. Three-weight Golden Gloves champion. Bronze medal at 1996 Olympics
Turned pro:
11 October 1996
Pro record:
46 wins (26 KOs), no defeats. Five-weight world champion
Worth:
Highest-paid athlete in world in 2012, earning $85m (all from boxing), and 2014, earning $105m (all from boxing)
If Mayweather is successful in his three remaining contracted fights with American broadcaster Showtime, he will be level with heavyweight great Rocky Marciano, who retired with 49 wins and no defeats.
And the idea of going one better than Marciano and reaching 50-0 could alter Mayweather's retirement plans.
The return bout with Maidana at the MGM Grand is only the second rematch Mayweather, who will be defending his WBC and WBA welterweight and WBC light-middleweight belts, has granted since he turned pro in 1996.
Mayweather won a controversial unanimous decision over Jose Castillo in 2002 before outpointing the Mexican again eight months later.
Maidana, who has won 35 and lost four of his 39 pro fights, provided a surprisingly stiff test for Mayweather in their first meeting, landing 221 punches, more than any other opponent.
"I am very well prepared but this time around I already know him," said the 31-year-old Maidana. "I am going to pace myself this time. I am not going to waste punches."
Meanwhile, Mayweather courted more controversy by springing to the defence of American footballer Ray Rice, who was sacked by the Baltimore Ravens and suspended indefinitely by the NFL after a video emerged of him punching his partner.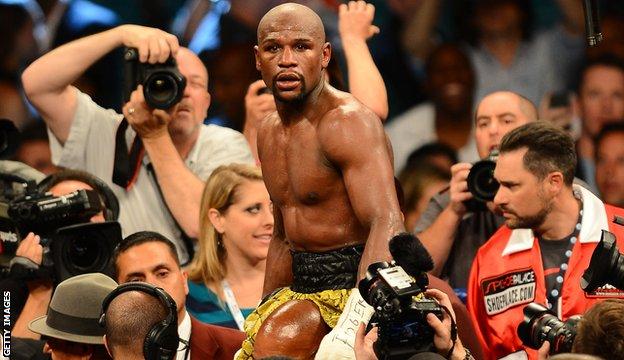 The NFL initially suspended Rice for two games in July but increased the punishment once the more damning evidence became public.
"They had said they suspended him for two games," said Mayweather, who served two months in jail in 2012 after being found guilty of battery on an ex-girlfriend.
"Whether they'd seen the tape or not, I actually believe a person should stick to their word. If you tell me you're going to do something, do what you're going to say you're going to do.
"I think there are a lot of worse things that go on in other people's households, also. It's just not caught on video."