Jamie Moore: Ex-boxer relives horror of Marbella shooting
By Chris Latchem
BBC Sport
Last updated on .From the section Boxing
Former European champion Jamie Moore feared he was going to die after he was shot four times in Spain.
The 35-year-old British trainer was seriously injured after being attacked by a masked man on the driveway of his Marbella holiday home in August.
He told BBC Sport: "I had a hollow feeling. It seemed like a dream. I was thinking, 'This is it'."
Moore, from Salford, has pledged to make a full recovery and produce a world champion from his gym.
Matthew Macklin, Moore's most talented boxer, cancelled a WBC world middleweight title eliminator after his coach was wounded during their training camp.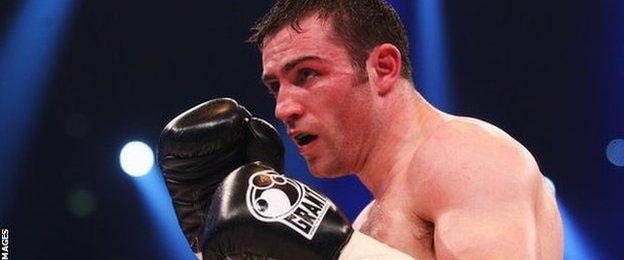 Macklin has since returned to the ring with a victory under the temporary guidance of trainer Joe Gallagher.
Moore hopes to return to 32-year-old Macklin's corner in time for him to win a world championship.
"I'm hoping he comes back to me and we can do it together, but I'll be just as happy if I see him win a world title as if we did it together," Moore said.
Moore was shot once in each leg. One bullet passed through the former light-middleweight champion's left thigh and another lodged in his right hip, where it will remain.
A third bullet wounded his shoulder and a fourth burnt the skin on a wrist.
He lay bleeding on the driveway for 25 minutes before an ambulance arrived.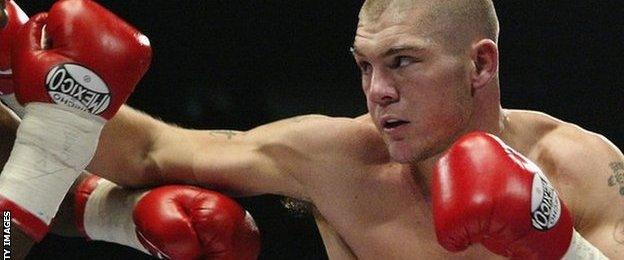 "I was thinking, 'I can't believe I'm not going to see my kids'," he said.
Moore says paramedics told him he was lucky to survive, as the bullet wounds to his legs only narrowly missed key arteries.
Police in Spain and the UK have been unable to trace his attacker.
Moore is ahead of schedule with his recovery and is walking with a limp. He says physiotherapists believe with the right rehabilitation, he should return to full fitness.
"I'm in a lot of pain, but I put a brave face on it for my son," Moore said.
"I'm his hero and he doesn't like seeing me in pain. So I cover it up."