Anthony Ogogo aiming to be 'the next Ricky Hatton'
Last updated on .From the section Boxing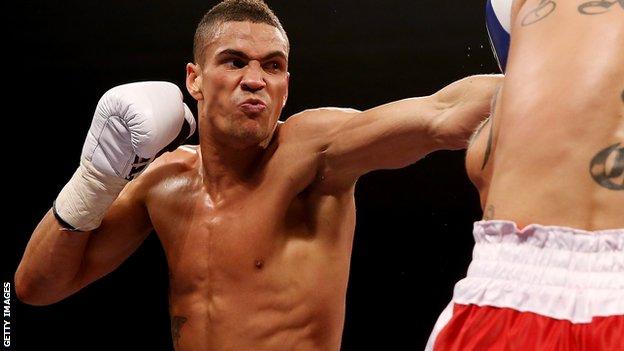 British middleweight Anthony Ogogo believes he can build a fanbase similar to that of Ricky Hatton's at his peak.
And 25-year-old Ogogo, who is managed by 10-time champion Oscar De La Hoya, believes he can also make an impact.
"If we built it properly I don't see why I can't become the next Ricky Hatton, so to speak," Lowestoft's Ogogo told BBC Radio Suffolk.
"Ricky went on to become a massive household name, and not just in Britain. They loved it when Hatton fought in America because he would take over 25,000 people.
"And he started off boxing in front of 50 people in a working men's club in Manchester."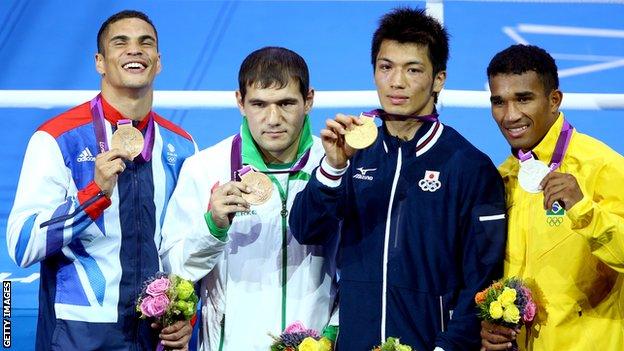 Ogogo's career is on hold while he recovers from surgery on both of his Achilles tendons, but he has held talks with De La Hoya over his future and hopes to return by February.
The London 2012 bronze medallist was signed to Golden Boy Promotions by Richard Schaefer two years ago, but Schaefer's departure earlier this year means Ogogo will be working more closely with De La Hoya, who had a sparkling professional career between 1992 and 2008.
"I didn't know how Oscar felt about me because I was very much Richard's prodigy," said Ogogo, who has won all seven of his fights since turning professional.
"But he couldn't have done any more to make me feel like I'm going on to be a big boxing star."
And Ogogo said it was surreal to be working with De La Hoya, whose fights he would watch as a child by sneaking out of his mum's house.
"I was quite naughty," he confessed. "I'd wait until she went to bed, go to the garage, get my bike and cycle to my mate's house at three in the morning.
"I told Oscar about that and he thought it was hilarious. He was a guy I idolised and he's now plotting out my future."