Boxing Scotland makes ambitious bid for more funding

By Keir Murray
BBC Sport Scotland
Last updated on .From the section Boxing
Richard Thomas was an animated figure at Glasgow's Hydro at the Commonwealth Games.
He had just watched Newarthill ABC's Charlie Flynn and Lochend fighter Josh Taylor win gold medals and was enjoying celebrating with them ringside.
For the Boxing Scotland chairman, it brought the medal tally for the host nation's team to four, the brace of golds adding to Stephen Lavelle's and Reece McFadden's bronze medals.
From a Games team of 10, coached by Mike Keane and Craig McEvoy, it was a welcome return.
"Our target was for three medals so delivering two golds and two bronze was absolutely fantastic for the size of nation that we are," Thomas told BBC Scotland.
Boxing Scotland chairman Richard Thomas
"Sport Scotland will look at our track record, not just in medals, but in other areas like growth, governance and what potential boxing has for the future."
His pride in the young fighters' achievements at the Games is evident, describing with relish some of the pre-fight motivational speeches, but he is keen to speak about the future...and the money required to shape it.
Boxing Scotland has asked for a large increase in its budget in the strategic plan for 2015-2019 that it has submitted to Sport Scotland, the government agency that is its primary source of funding.
Thomas, 43, and his fellow board members at the amateur sporting body have bid for about £3m to cover the four-year period, an increase of about two-thirds.
"It's a massive increase," acknowledges Thomas, "but it's a robust plan so we're confident that Sport Scotland will receive it well.
"Sport Scotland will look at our track record, not just in medals, but in other areas like growth, governance and what potential boxing has for the future.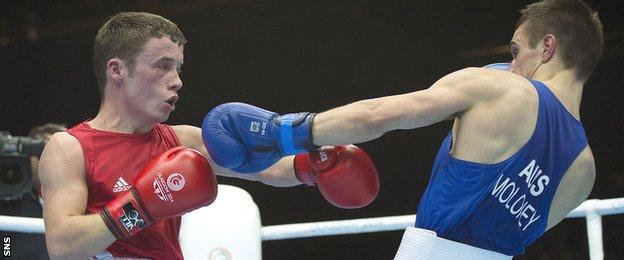 "I am a great believer, and the board of Boxing Scotland are great believers, that boxing can become a national sport again.
"At a local level, if boxing can change an individual then it can change a community, and indeed it can change a nation."
For Thomas, the thinking goes like this - better facilities in better clubs produces better boxers and more medals at major tournaments; medals help create local and national heroes that boys and girls can look up to; the more central the role of the boxing club in a community, the greater the social benefits, with young men and women joining up.
He says: "We want to make boxing accessible for all.
"The performance programme is bolted down. We have proved that in the last two Commonwealth Games cycles.
"Where we will focus now is on making the clubs self-sustaining so that we see the improvement in the facilities.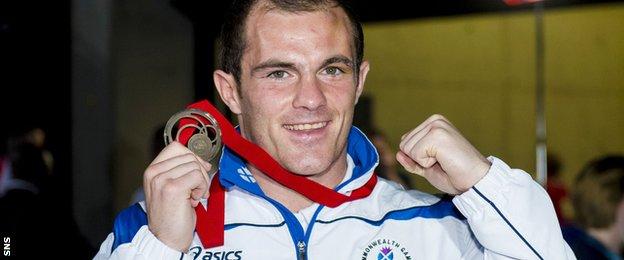 "Reece McFadden and Charlie Flynn - these are boxers who have become inspirational heroes. That will become a catalyst for growth in the clubs. You'll see more people get involved with boxing."
Boxing Scotland have set themselves a target of 10,000 "recreational boxers" across 100 clubs by 2019, up from an estimated figure of 4,000-5,000 people who spar, train and keep fit but who don't engage in competitive bouts.
To do that, he acknowledges that facilities, such as more space, training equipment and changing areas, have to improve.
He says the strategic plan was written over three months in conjunction with member clubs. It looks ahead to the Gold Coast Commonwealth Games in 2018 and details plans for how to grow its membership and governance.
"We believe that boxing can become a national sport again," Thomas, from Edinburgh, continues.
"Boxing clubs operate as a hub in communities that are the most disadvantaged, with the highest levels of unemployment.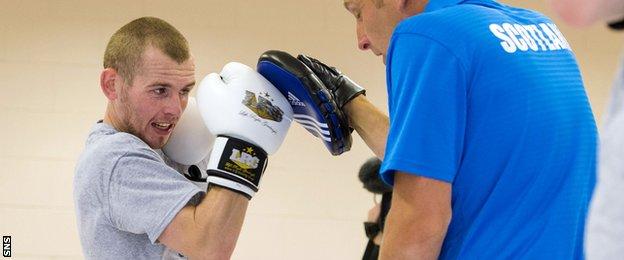 "We think it's key that we focus our effort not just on medals but on growing the number of clubs and the strength and the quality of the clubs.
"That's about encouraging them to be more ambitious, it's about providing the right resources and support to allow the clubs to access funding."
To that end, the organisation has taken on a regional development officer, part of whose role is to seek alternative sources of funding. The strategic plan details similar positions if money can be found to pay for them.
Regeneration agency Clyde Gateway and Sport Scotland joined forces to fund Boxing Scotland's superb new high-performance centre in the Olympia building in Glasgow's Bridgeton.
Thomas describes the facility as "inspirational" for the country's best talent, who have a chance to shine at the national championships at Ravenscraig at the end of March.
"Change" and "inspiration" are themes Thomas returns to repeatedly. He'll be hoping his grand plan has a transformative effect with Sport Scotland's decision makers.